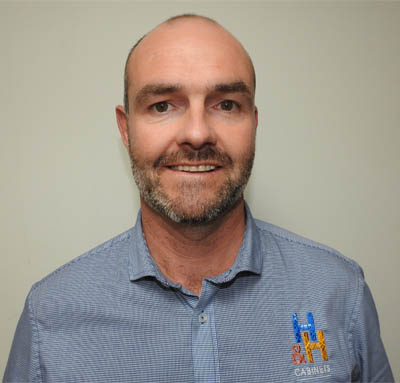 DALE HEALY
Our Managing Director, and chipper team leader, Dale has over 30 years as a Qualified Cabinet Maker and certified Kitchen/Bathroom designer.
Taking over ownership in 2000 of a business that was founded in 1968 – the business he completed his own apprenticeship at- Dale's role sees him working on high-level operations ensuring that H&H Cabinets, and its staff, maintain their position as a reputable, professional, joinery business within the industry.
Being a sitting member of the Cabinet Makers' Board (ACFA), Dale keeps H&H up to date with all the latest Quality, Environmental and EH&S standards, and has grown the business into a multi-award-winning firm.
Strongly family and community-minded, Dale is heavily involved in local community sports; playing in both local football and cricket teams, and a passionate coach of the local youth in both those sports.
"I don't consider H&H Cabinets my business," he says. "It's more like a family business, mine and the awesome group of talented people I work with. After all, I alone can't create the beautiful spaces that we do."
Dale's primary focus is on:
Continuous business improvement, in operations and procedures
Engaging with new Builders, Architects and Designers
The mentoring and growth of the senior staff
Keeping the business abreast – and certified in – the latest Quality, Environmental & EH&S standards.
As a sitting board member of the ACFA, looking to the future growth of the industry and its members, especially the tradespersons that work in it.
The training and development of new Apprentices into Qualified Tradespeople, to keep the industry strong and healthy in Australia.
---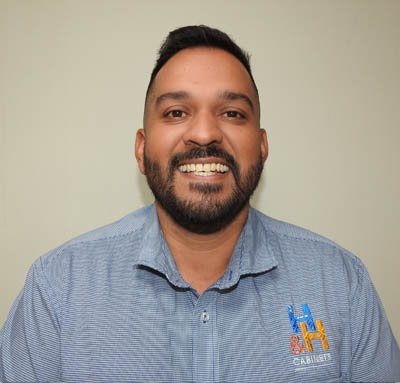 MITCH de KRESTSER
As one of H&H's original apprentices, Mitch has become our extremely knowledgeable Production Manager.
His key roles are quite diverse: Quoting/Liaison for all our Builder's orders; scheduling of all projects; stock control; and our primary resident expert in our CAD, CNC and quotation softwares.
Once qualified Mitch worked at H&H as a leading cabinet Maker for seven years before taking up an opportunity in the UK for two years. Upon his return he branched on his own for a while, but returned to his Cabinet Maker roots, taking up a crucial IT development role to help improve H&H's quotation, procurement and stock management systems to where they are today.
An avidly keen Golfer, Mitch is seen by his peers, our suppliers and builders as part of the furniture here at H&H Cabinets.
As Production Manager, Mitch is responsible for:
Scheduling of all projects
Domestic Builders contract services
Stock order & control
Quoting & Liaison for all Builders' projects
I.T. Leader for our CAD, CNC, Quotation and stock control softwares.
---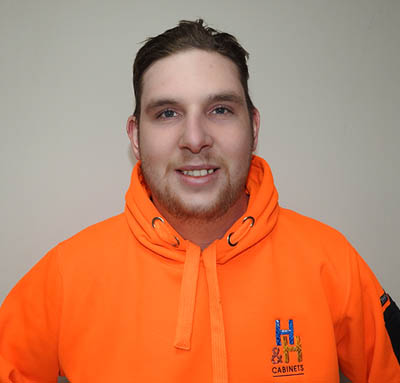 JOSH HAWKINS
Starting out as a young apprentice, Josh has been a member of the H&H family now for over 11 years.
After qualifying and working both in the factory and as a junior installer, Josh became our Head Installer for three years, building a huge rapport with his fellow teammates and the various Builders that H&H work with. As a trusted and well-respected Cabinet maker, it was a natural progression for Josh to step up into the role of Factory & Site Foreman.
Not only is Josh a key contact for clients and builders once the job is in production, he actively trains and mentors both our cabinet makers and apprentices, ensuring that we maintain a safe, efficient factory that produces quality end-product.
When not mentoring the staff you'll find Josh in the great outdoors burning up energy Mountain Biking somewhere in the state.
Josh's responsibilities include:
Liaising with Builders, Project Managers and Clients during the installation of their projects
Liaising with Third-Party trades: electricians, plumbers, plasterers, stone masons
Overseeing the day-to-day factory operations
Train and mentor all our tradespeople, especially the apprentices.
Continuous improvement in factory efficiencies, machinery maintenance and safety standards.
---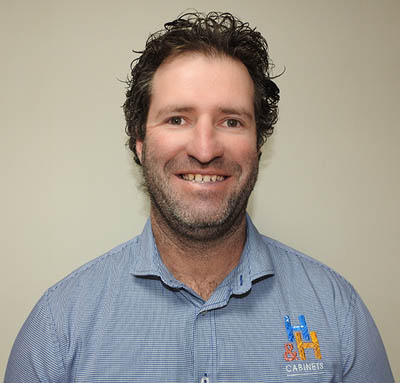 GRANT IRVING
After being the Head Installer for H&H Cabinets, Grant took up an opportunity to further his understanding of the business by becoming our Technical Detailer.
With the key responsibilities for this role targeted at the finer details of cabinet making, Grant's required to not only accurately check-measure the site/spaces but then translate those measurements into accurate, Factory-ready drawings for construction, along with ensuring selected appliances and fittings work within the design.
With a good understanding of the CAD software, Grant optimises the products for cutting on the CNC and liaises with clients, builders and third-party trades, such as electricians and plumbers.
Outside of his time tech detailing Grant is a coach, player and Vice President of his local baseball club.
Grant's key roles are:
Site check measures
Technically detail new jobs; including ensuring correct appliance fits
Prepare Factory ready plans for construction
Optimise board for CNC machining
Ordering of custom doors, drawer fronts and panels
Liaise with Builders, Clients & Third Party Trades as required, usually in regards to details surrounding the check measure.
---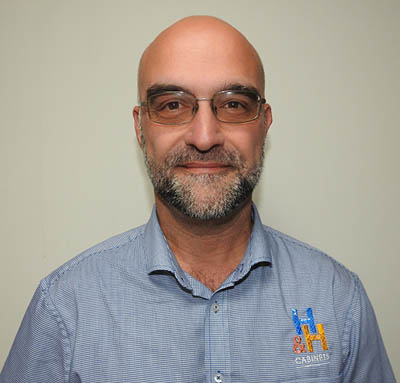 JEFF HEALY
Jeff's time at H&H started with him simply helping out by being a machinist running the CNC. Then, in 2010, he took on the role of Technical Detailer, which soon lent itself to Jeff completing his Certificate IV in Kitchen/Bathroom design and moving into the role of Senior Designer.
With over 10 years of experience, Jeff is your go-to guy for showroom or on-site design consultations, quoting new residential work, and finishes selections and can even help with appliance selections too.
As an avid LEGO builder and model kit enthusiast, creativity is in his blood.
Jeff's primarily responsible for:
On-site and Showroom design consultations
Quoting all Residential projects
Finishes and appliance selections
Creation of conceptual plans and 3D imagery for sign off
Independent Design & Drawing service After a consultation with Jeff, he can generate a full set of drawings and images that you own and can use to obtain like-for-like quotations. Prices vary depending upon the number of rooms you're after.
Feel free to give Jeff a call and ask him all about it.
---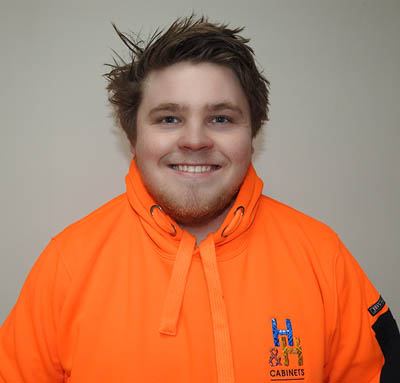 REED MCLEAN
Winner of the 2022 HIA Victoria Apprentice of the Year award
Starting out as a First Year apprentice at H&H, Reed has earned his stripes as a fully Qualified Cabinet Maker and a valued member of the H&H family.
With an aptitude to help and teach, Reed has grown into a natural leader in the factory, and mentors the H&H Apprentices in their daily work and skills growth, and developed into the right-hand man support to our Factory Foreman, Josh.
When not guiding the apprentice staff and constructing your kitchen, you'll find Reed in his garage at home polishing up his wood-turning/furniture-making skills, turning out some very skilled pieces of woodwork, or strolling the greens of the local Golf Club.
Reed's responsibilities include:
Mentoring and training factory apprentice staff.
Liaising with Factory Foreman on the day-to-day factory operations
Working with the Factory Foreman on the continuous improvement in factory efficiencies, machinery maintenance and safety standards.
---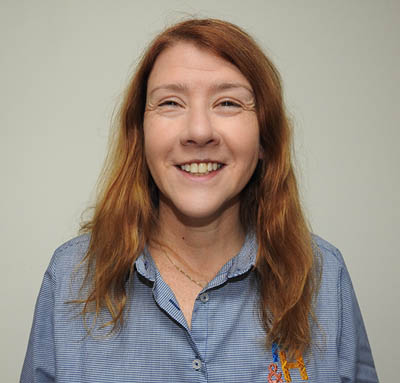 ANDREA HEALY
As co-owner of H&H alongside her husband, Dale, Andrea is not adverse to being hands-on in the business and, in most instances, she is the first person you meet or speak to on the phone.
With over 25 years experience in Customer Service Andrea can help us understand what your joinery needs are and point you in the right direction with regards to your next steps with H&H Cabinets; from Design Service, showroom or on-site consultations.
Andrea is also our Head of Accounting, so please reach out to her for any of your invoicing inquiries.