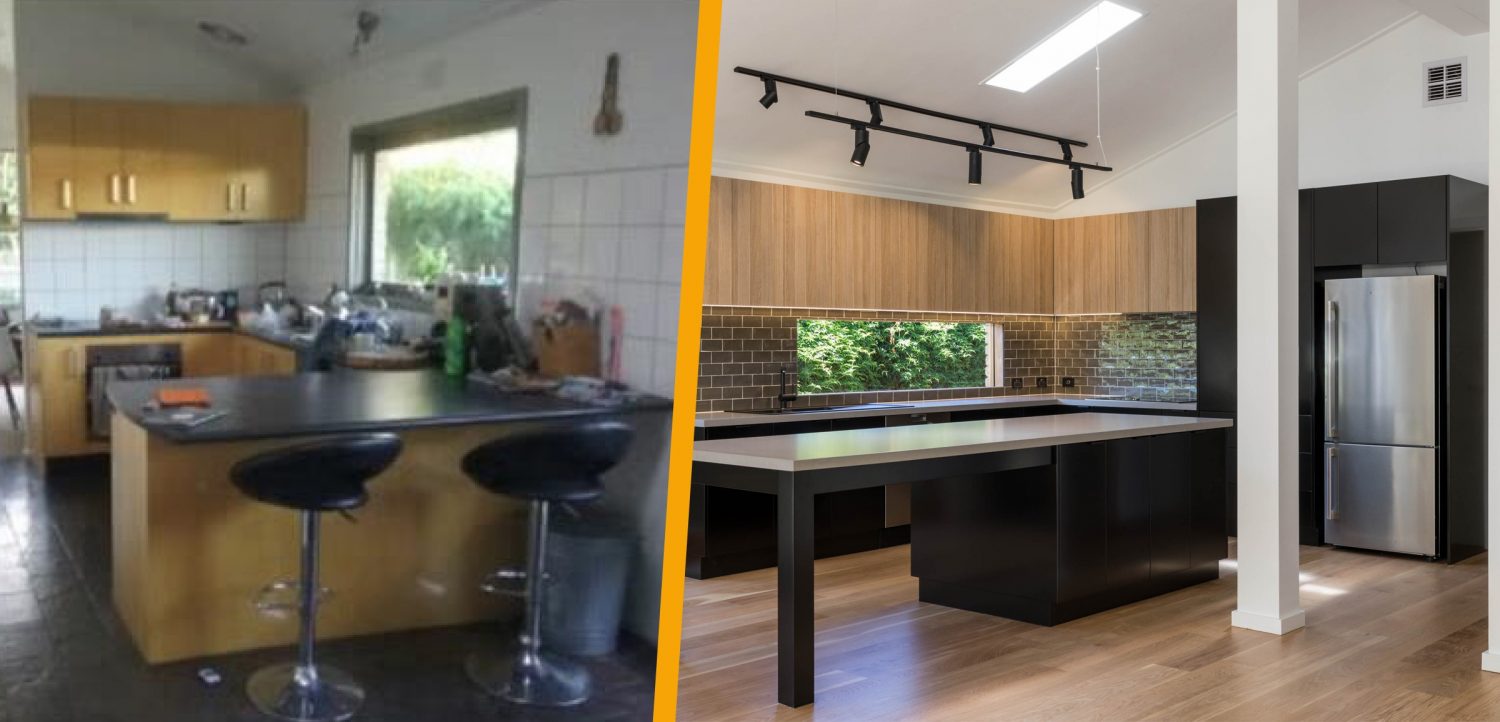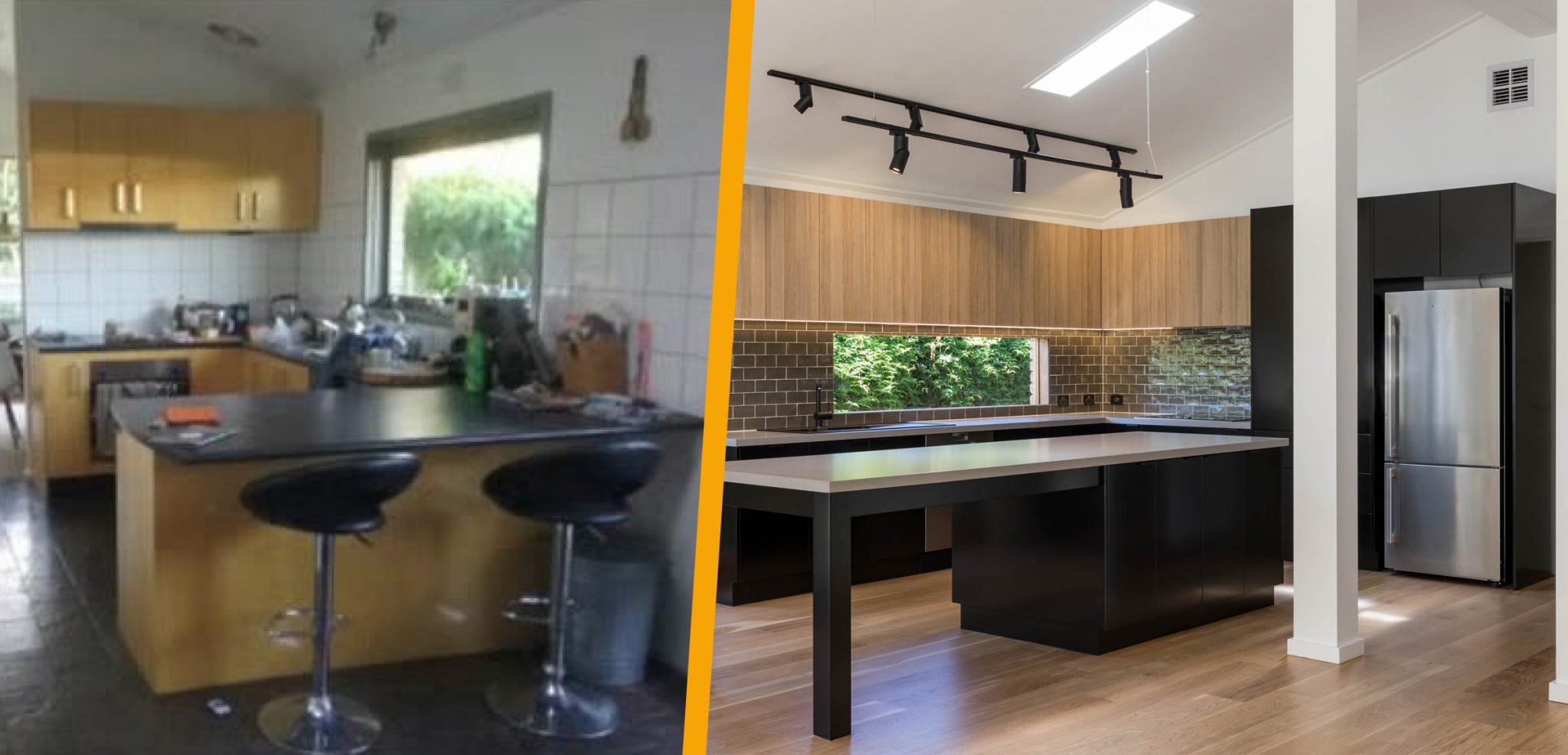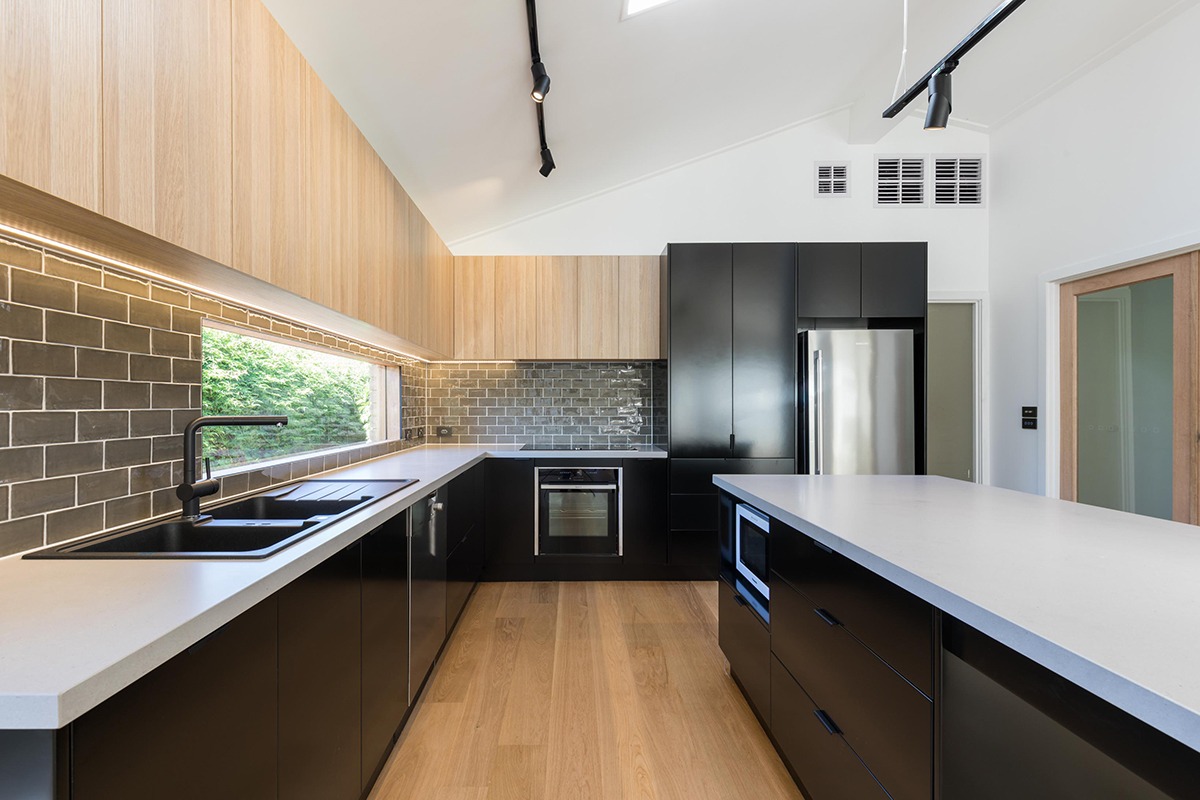 Background
 The clients had been working closely  with their architect and builder knew the look and feel they were after. The architect had created the basics, but they were interested in working out how to make the layout practical as a family kitchen.  
Job Requirements
Our job was to refine their design ideas to be as functional as possible. They were taking down a number of internal walls to open up living, dining and kitchen areas.  
Budget
What the client wanted from their new cabinetry
They were interested in designing a open plan, family kitchen. We came up with ideas like pullout bins, proper sized drawers for pots, and charging stations for all the modern devices that stopped them from being left all over valuable benchtop space.
As well as a bit of dramatic contrast in the cabinetry – the sleekness of black 2-pac and a textural feeling timberprint melamine, combined with the warehouse look of Caesarstone's 'Raw Concrete'.
As it was now going to be a very integral part of their new open plan living space it had to look great, but blend in at the same time.
Clients major concerns about the project
As they had been working with architects and builders there was a bit of a concern about having to live with a kitchen design centred around a support pillar. 
We did several design revisions with this in mind and finally got to a layout they loved.
Biggest challenges for H&H Cabinets that were overcome during the job
The biggest concern for H&H Cabinets was the plumbing for the rangehood.  The property has cathedral ceilings and the owner didn't want big bulkheads or unsightly ducting overpowering the look of the kitchen.
The BIGGEST challenge:  At the 11th hour the owner and the builder changed the location of the kitchen!!  So the original design was suddenly out the window and we had to rejig the entire design at a time when we should have already begun construction!!   That said, the new location gave us more freedom AND moved the cabinetry away from the annoying support pillar.  So, whilst a stressful challenge, it did end up benefiting the owner and his family with a much more functional kitchen.
A huge open space more suited to modern day living.  Better ergonomics.  A more inclusive kitchen with space for the children to sit and do homework whilst the parents are preparing the evening meal, or where friends can comfortably sit and not interrupt you when entertaining.