Kitchen Cabinet and Kitchen Maker 
There are many important pieces that work together in creating the perfect kitchen. Kitchen cabinets, door styles and colours, handles, door knobs, bench top finishes and appliances.
A kitchen needs to be both beautiful and functional.
We are Kitchen Maker in Melbourne
At H&H Cabinets, we offer kitchen renovation and full kitchen project management service, so you don't have to worry about a thing.
Everything from materials, appliances, plumbing and electrical, we work with you to discover exactly what you want, the look and style, plus what work is required, we then begin our work and look after the project from start to finish.
Kitchen Design & Kitchen Cabinets : Some of Our Works
Kitchen Layout Mistakes You Don't Want to Make!
The areas of greatest activity such as the sink, stove and refrigerator require careful planning.

There should be clear easy access to all 3 items. Regardless of your kitchens, size or shape these 3 areas should be close together, however be positioned so people are not tripping over one another.

One of the biggest complaints is the lack of bench space.

Consider all the kitchen activities that require a benchtop as well as appliances that are left out permanently. You want to allow for as much open bench space as possible. If space allows a good solution for this is to add an island or breakfast bar.

Almost every kitchen has wasted space, however with adequate planning this can be minimised.

Consider installing extra tall cabinets for extra space. Install cabinets over the refrigerator and install shelves across the backs of lower kitchen cabinets.
Kitchen islands are great for additional storage, preparation and serving space.

But unless you have the space to allow for people to be able to move around it easily it may not be a good idea, and in fact waste space. Another important thing to think about is how you will incorporate power to your island.

Not using a professional to help with your ideas can be another expensive mistake.

At H&H Cabinets we offer an in-home consultation. We will go over your ideas and give our suggestions based on our years of experience.
What to think about when looking to renovate your kitchen
Before you start planning a new kitchen, the first thing to decide is whether you want to just update your existing kitchen or whether you want to do a complete renovation.

Work out what you like and what you don't like, based on this we can advise what will work and if there is something better based on the size of your kitchen and the shape.

How much storage do you need? Based on your current kitchen do you have enough storage?

Where do you want to position the cupboards for your utensils, dinnerware and pots & pans? Having a large pantry is great for most families however accessing items at the back can be quite difficult, resulting in wastage of food. One of the best solutions for this is to use large pull-out drawers, allowing easy access to items stored at the very back.
What appliances or kitchen elements should be positioned close together, such as the fridge and cooking station?

Does the space required for your appliances need to be a special size? For example do you have a slim fridge or a large 2 door fridge?

Do you want to store your gadgets such as kettle and toaster in a cupboard to reduce bench top clutter?

For items that are used regularly this is not the most effective solution, however you can create a cupboard on the bench so appliances can be slid in and out of the cupboard on the bench easily.
Corner Kitchen Cabinet
You then have to figure out, based on the layout, any constraints that may need to be looked at such as size, the position of doors, the layout of kitchen etc. Corner kitchen cabinets can be very awkward and difficult to access. These days there are many accessories that pull-out for both under the bench and corner cabinets. A pull-out makes it easier to access items stored in the back of the cupboard allowing you to utilise the full space. Installing bi-fold doors on your kitchen cabinets allows you to leave the cupboard open whilst you are cooking with without it getting in the way. This is ideal for walk-in pantries, or internal laundries that are in your kitchen.
Custom Kitchen Cabinet
When it comes to kitchen cabinets, the sky is the limit. There are limitless options that will give you an opportunity to design the kitchen of your dreams. If budget is not a concern for you, you can consider installing custom kitchen cabinets. Custom kitchen cabinets are a favourite among homeowners because of the distinctive style that they provide to the kitchen space. Also, you get to enjoy the flexibility and highest quality of workmanship. When you opt for the cabinets, you will have to work closely with a cabinet designer or a cabinet maker and help him realize your dream. Custom cabinets are expensive because cabinet makers avoid using the inexpensive particleboard. It is the same reason why they are long-lasting. A kitchen is the heart of your home. And, it is essential that you design it according to your needs because you will be spending a large time in the kitchen. If you do not consider custom kitchen cabinets the best thing since sliced bread, here are a few reasons that will change your opinion.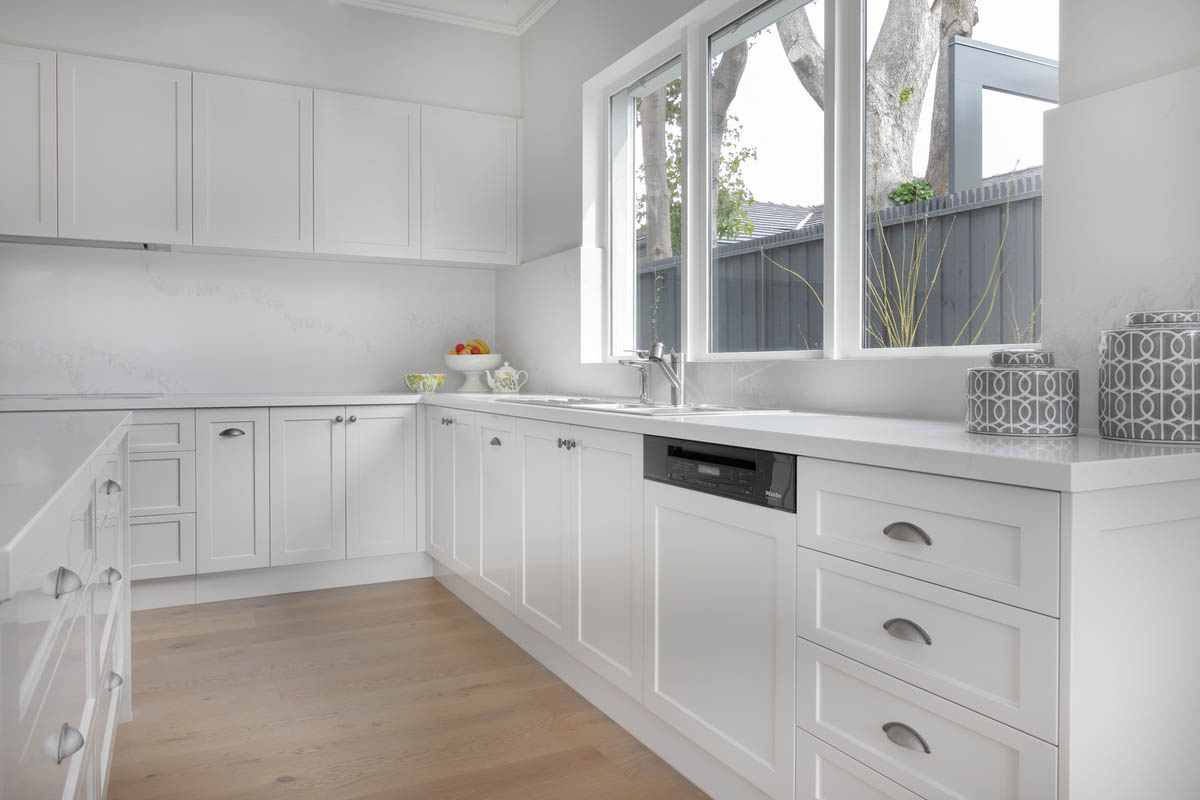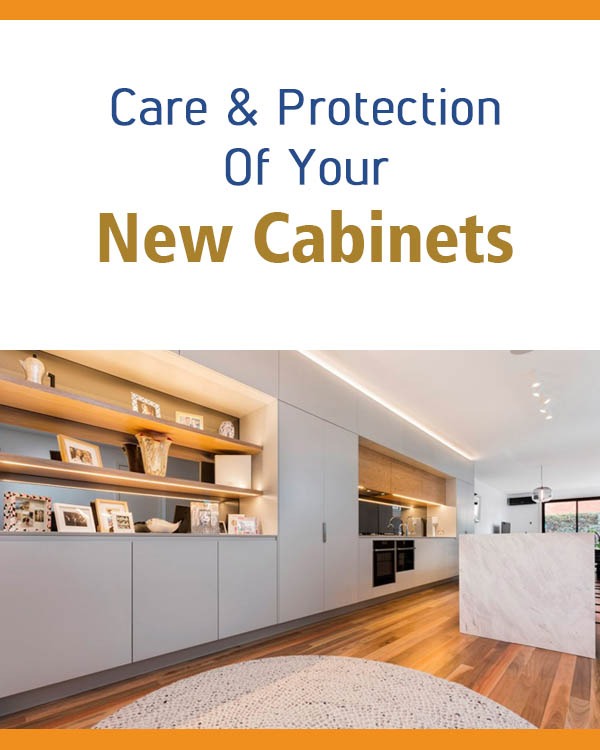 Download Your Copy Today!
Improve your kitchen with custom-made cabinets
The prestige that comes with a custom-made design and installation is priceless. The professional team at H&H Cabinets offer a level of personalisation for your cabinetry that will be perfectly suited to your home. Custom cabinets are a great way to better utilise space while ensuring they completely match the aesthetic and style of your house. Increase the value of your home by letting the experts at H&H Cabinets design, build and install cabinetry that you will absolutely love for many years to come. We can work with initial or existing plans, or start from scratch, moulding your ideas to create the space of your dreams. Your kitchen cabinets need to be functional and aesthetically pleasing, and with our team of experts, we can guarantee that outcome.
Why choose a H&H Cabinets custom design?
Our expert and experienced team work closely with you to build your cabinets to your exact specifications. We ensure that every piece will suit the space perfectly providing a luxury look and experience along with optimal function. The result is an original and unique kitchen for your home that will increase its value and your daily enjoyment of the space, for you and your family. With extra peace of mind that H&H Cabinets are fully insured, all our work carries a 10-year workmanship warranty, all tradesman are fully qualified & designers certified. Our custom cabinets are designed to look amazing and fit your lifestyle perfectly. This means taking into account how you will use them during the design process. Our team will consider your preferences, requirements for storage and the allocated space before creating custom pieces entirely for you. From innovative storage to improved use of space, there are plenty of options available to you.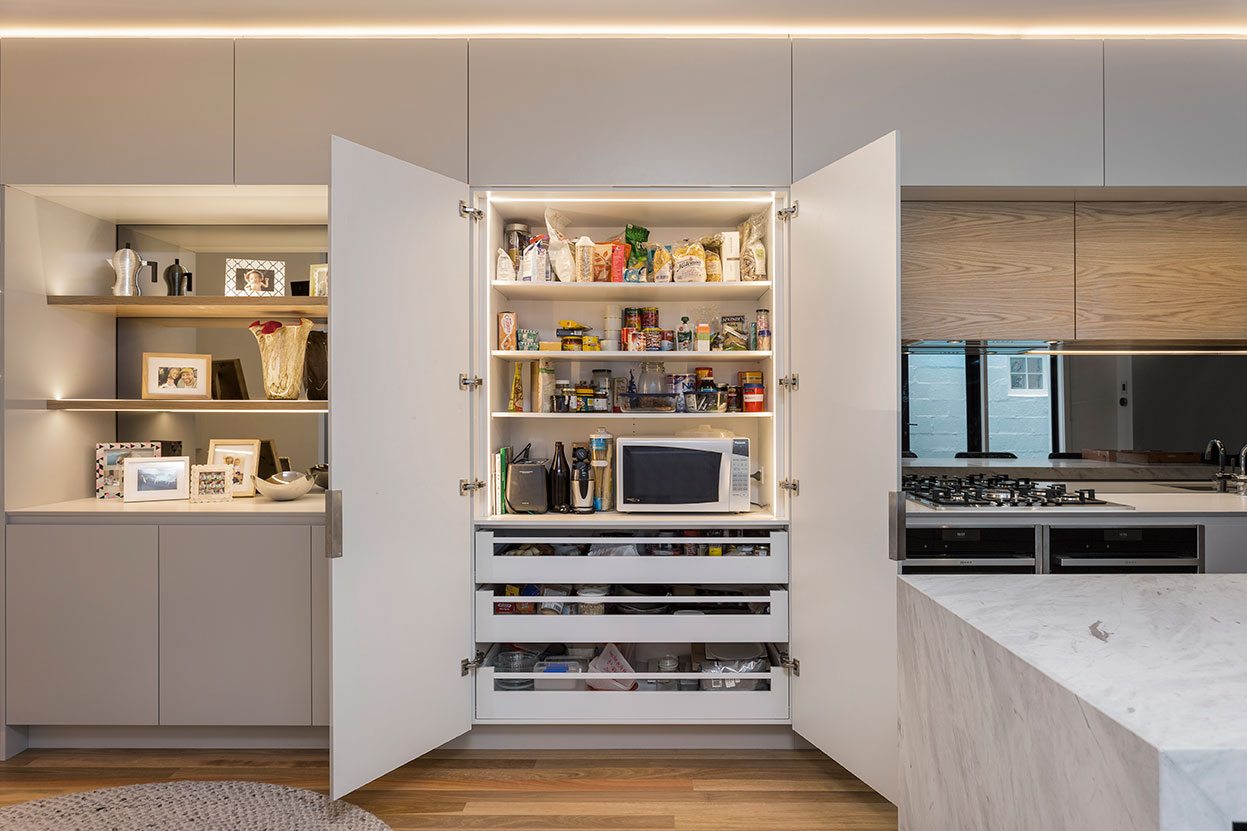 The peace of mind in quality custom work
House not level, walls not square? …….Flatpack cabinets, especially those that are bought online, bring with them a level of risk that may mean they do not entirely fit your space. This is simply not an issue with custom cabinets as they are built to fit your specific measurements. This is helpful during a build or renovation as they will not cause any issues which can mean additional time needed in your project scope. You also have complete freedom in choosing the materials used, be it type of wood, style or finish meaning your home can be the complete representation of your style that it should be.
Maximise your storage space
You'll want as much storage space as possible in your kitchen. A lot of re-designs make the mistake of installing less cabinetry than they actually have room for. This is wasted space that could be used for food storage, pots, pans and more. We can design a range of cabinet modifications that will truly make the most of all of your space, without sacrificing the visual aesthetic. A sleek, modern, minimalist kitchen with expansive amounts of storage is completely possible with our experts at the helm. This is particularly important if you live in a smaller apartment where maximising space has a direct impact on how comfortable you will be. A functional space with a stunning visual aesthetic comes down to smart planning, and the H&H Cabinets are the planning and execution experts.
Attention to detail for projects of any size
The high-quality craft of custom cabinetry that provides adequately built and installed cabinets is incomparable to any other solution. The H&H Cabinets portfolio of exquisite work speaks for itself and is proof of the level of skill and passion we bring to each project. From unique exquisite features that increase the value of your home to solutions that make life easier, we account for it all. By having custom cabinetry built on-site during your renovation, remodel or build, you avoid the risk of any unforeseen stock hold-up. This can happen when off the shelf cabinets or flatpacks, which are built ahead of time, are ordered.
Some key benefits of custom kitchen cabinets include:
Cabinets built to meet your specifications

Peace of mind that your order will suit the space

The ability to ensure they function in your preferred way

Completely original and unique.
A solution built to fit your lifestyle

Control over design preferences

Tailored to suit your cooking & entertaining habits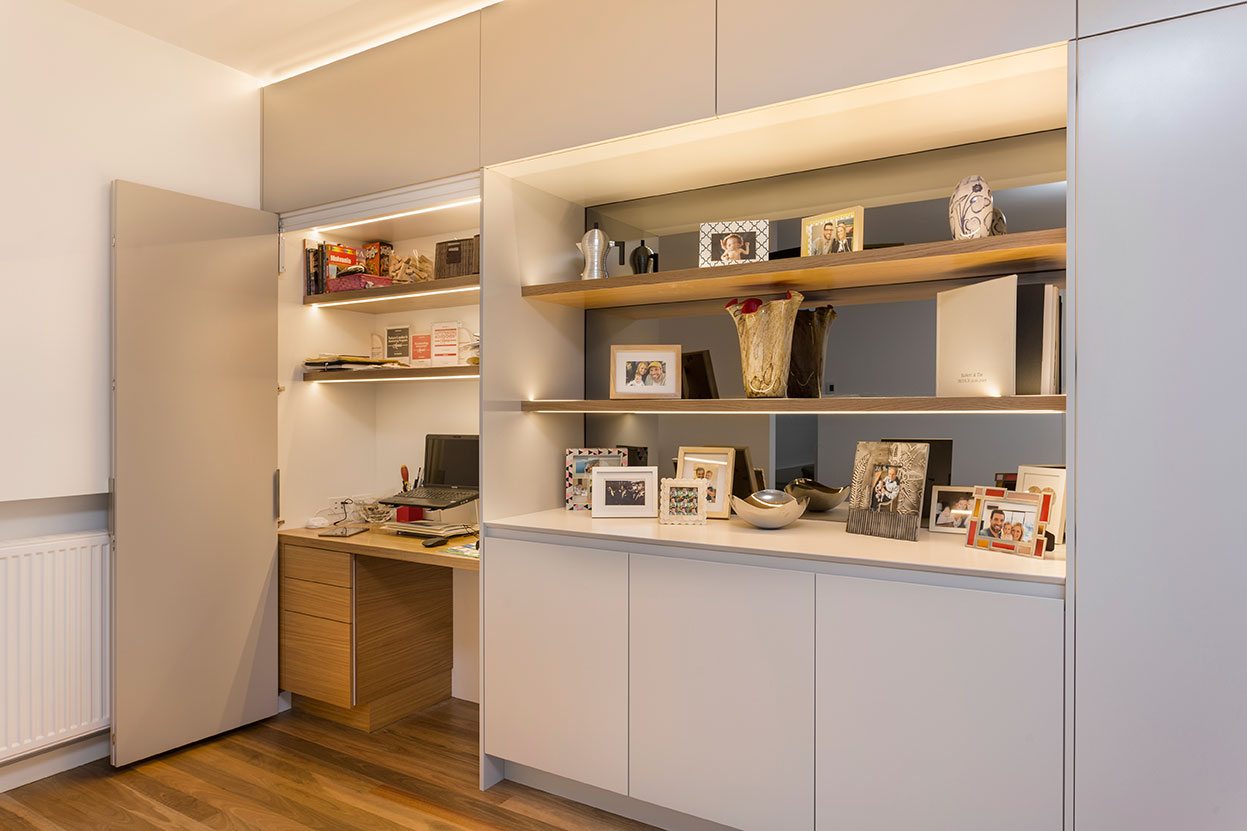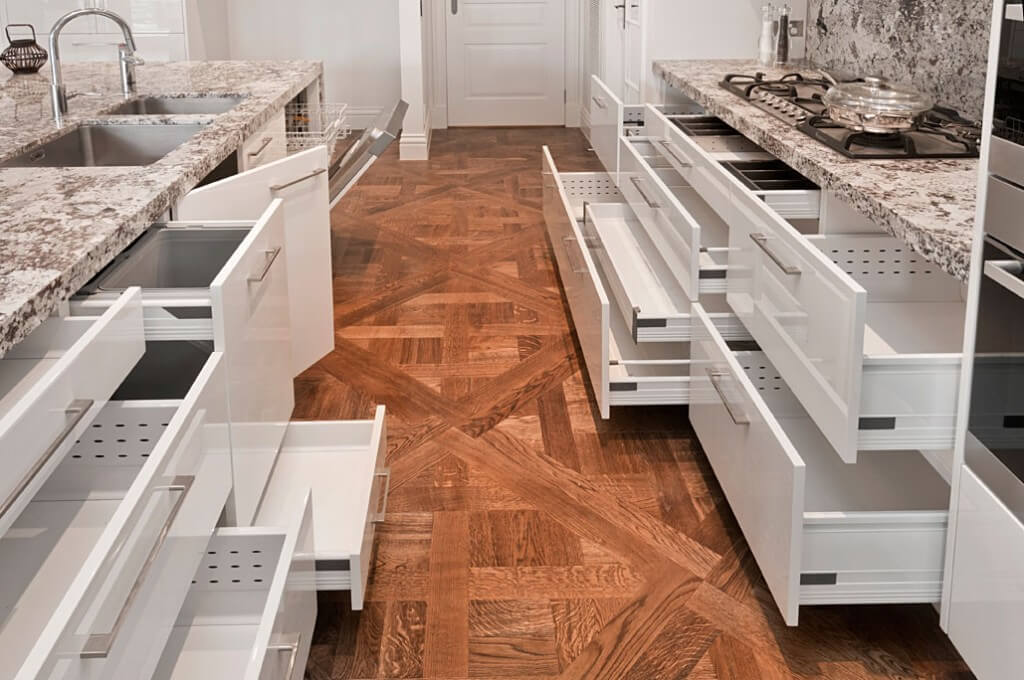 Your requirements for storage need to work to the exact shape of your kitchen. The ability to have innovative storage is easier now more than ever before, thanks to a range of technological and design advancements. The H&H Cabinets team keep this in mind to ensure your design accounts for a greater use of space. Have a kitchen with an odd shape? Not a problem.
Your kitchen, your way
If you are considering a kitchen remodel, take the opportunity to truly design a space you will love to use. Off the shelf cabinets or flatpack, cabinets can be limiting and add unnecessary stress to your project if they turn out to be not quite right. Off the shelf or flat pack kitchens may also not meet Australian Standards (which can be a health concern). Custom cabinets resolve this issue and save you the tireless task of searching for stock cabinets that will suit. Choose a completely customisable option with no sacrifice of the particular style or look you want.
Your kitchen is a representation of you
H&H Cabinets will ensure a luxurious, stylish outcome that is on-trend and pleasant to use. Maximise your storage space and avoid unused blank spaces Improve the function of a small apartment Opt for an eco-friendly process and pick recycled materials, local or domestic hardwoods The additional upfront cost of custom cabinetry is returned in a boost to your property value, ease-of-use and the longevity that quality cabinetry provides. The style elements that come with specific design features, inlays, hardware and more, offer a chance for you to express your personality through your space.
Elements to consider when choosing kitchen cabinets
Your design decisions are important, as they will not only dictate the cost of your project but the style and finish you will see every day. Quality is crucial, and when it comes to cabinets, you really do get what you pay for.
The elements to consider will include:
Kitchen Cupboards
Kitchen Drawers
Kitchen Storage Cabinets
Kitchen Cabinetry Finishes and Materials
Kitchen Benchtops
H&H Cabinets will help you consider the following elements and the impact they will have on your space:
Kitchen Cupboards

The doors, drawers and handles dictate the look and feel of your kitchen design and are the first thing to be noticed. Luckily, there is a wide range of options available, and we'll work to make sure they suit the rest of your cabinetry.

Kitchen Cupboard Doors

You'll need to consider options such as gloss, satin, shaker, panel, handleless doors, French provincial and more. This choice takes up a significant visual area of your kitchen, so it's important that you find a style that you not only love but works with the other interior aspects of your home.

Kitchen Drawers

A great way to utilise space that is usually wasted. Advancements in drawer systems mean items are easy to store and access. Soft-close drawers, in particular, have come a long way. We can upgrade your current drawer options to provide more storage space, greater ease of use, more access those hard to reach places and whisper quite to close
Kitchen Bin Drawers

Hide your rubbish and save valuable floor space while making your kitchen visually more appealing. Add dual receptacles to make recycling or composting much easier. The correct storage of your kitchen bin and ease of access can also determine how hygienic the area will be.

Drawer Runners and Hinges

The hardware of your kitchen is the workhorse and needs to be of high quality to account for how much your cupboards and drawers will be opened and closed. Poor quality options save money initially but lead to expensive problems in a short space of time. Our hinges & drawers are backed by a lifetime warranty Kitchen benchtops are the work horse of the kitchen……….need to add something in here please
Take pride in your home
Fine details become much more significant when they are a part of your everyday life. There truly is no substitute for quality when it comes to the space you call home, and you will be glad you decided to opt for quality at the beginning of a remodel or build.
Whether you have some design ideas of your own or are looking for inspiration from an expert, we can help. We create a custom design that is realistic, stylish and premium. Our expert team will happily work closely with you to ensure there is no doubt that you'll love the final product.
Speak to the experts at H&H about your kitchen and kitchen renovation today
If you have made the smart decision to opt for custom kitchen cabinets, H&H Cabinets & Kitchen Renovation is the right choices. Our stunning portfolio of work speaks for itself, and we're excited to add your space to our fantastic work catalogue. We have years of experience and are always happy to share our knowledge to help homeowners find the perfect solutions for their area. Just pick up the phone, we love to chat cabinets! Get in contact today, share any design ideas you may have with our team, and we'll start the process of making your dream kitchen a reality. Contact us for a no-obligation quote, or even an initial chat to see what we can offer today.