Cabinet Maker: Bedroom Cabinet Design Ideas for Small Spaces
H&H Cabinets
Bedroom cabinet design trends are expanding the possibilities of what we can do with limited space, as apartment and minimalist living rises in popularity, people are often left trying to figure out how to make the most out of small living spaces. Your cabinet maker will make your design easy and possible.
H&H Cabinets are space utilisation experts, and we have compiled some bedroom cabinet design ideas for small spaces that will not only maintain a stylish aesthetic but allow you to rest and recharge in the bedroom with everything you need.
The bedroom should be a place of rest, making it the perfect spot in the house for the minimalist ideal. So, let's look at how to make the most out of your bedroom space with less, so you can enjoy the space that you use to finish each day!
Storage under the bed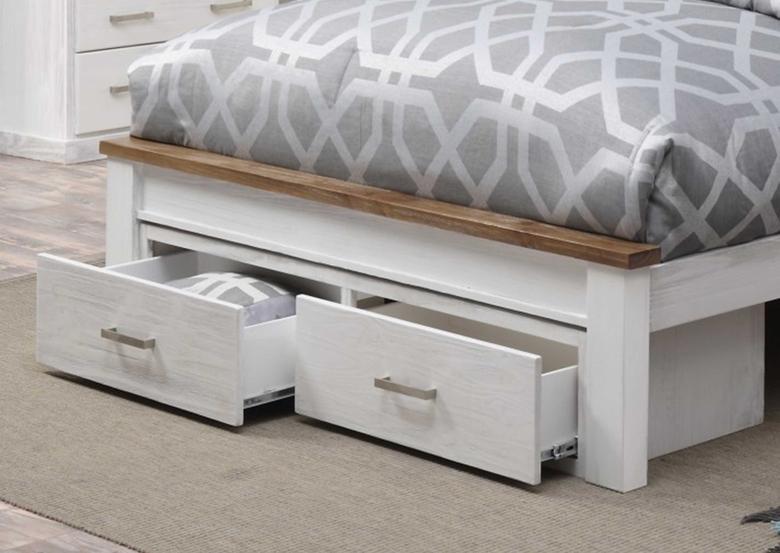 In small spaces, the most obvious area to start with sits under the bed. This is a large space that is often unseen, making it perfect for neat storage.
This idea can tick two requirements off the list if you are also looking for a new bed frame, as you can opt for one that includes drawers underneath for extra storage.
It is crucial to ensure that you have enough space so that drawers open easily, but if you do, this is a large amount of practical storage that you can include in the bedroom.
Vertical storage bedroom cabinet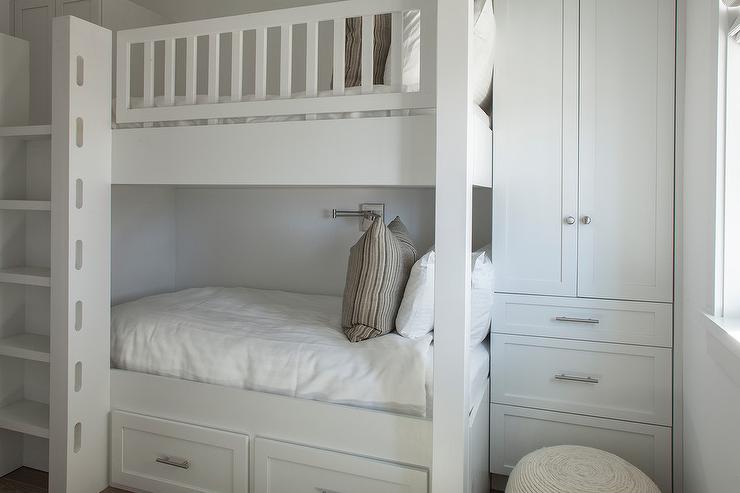 Never forget that when dealing with apartments and small spaces, if you can't go out, go up! If floor space is limited, make the most of your ceilings, and opt for cabinetry that is tall or sits in the higher sections of the room. For example, above the windows.
This is the perfect solution for items that you don't need to access regularly, like sheets and blankets, or storage for photo albums and luggage.
Related Post:
Floating Shelves Bedroom Cabinet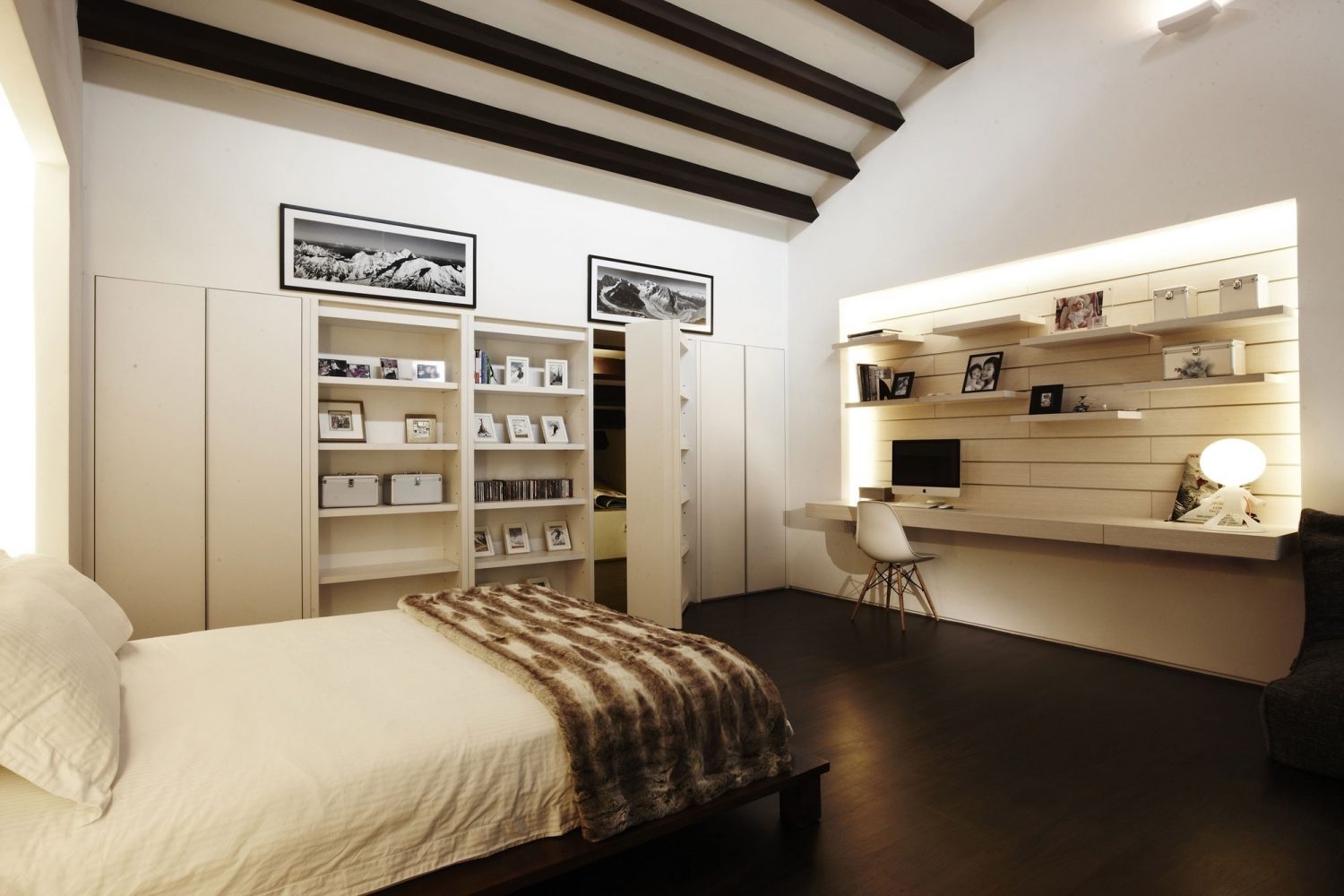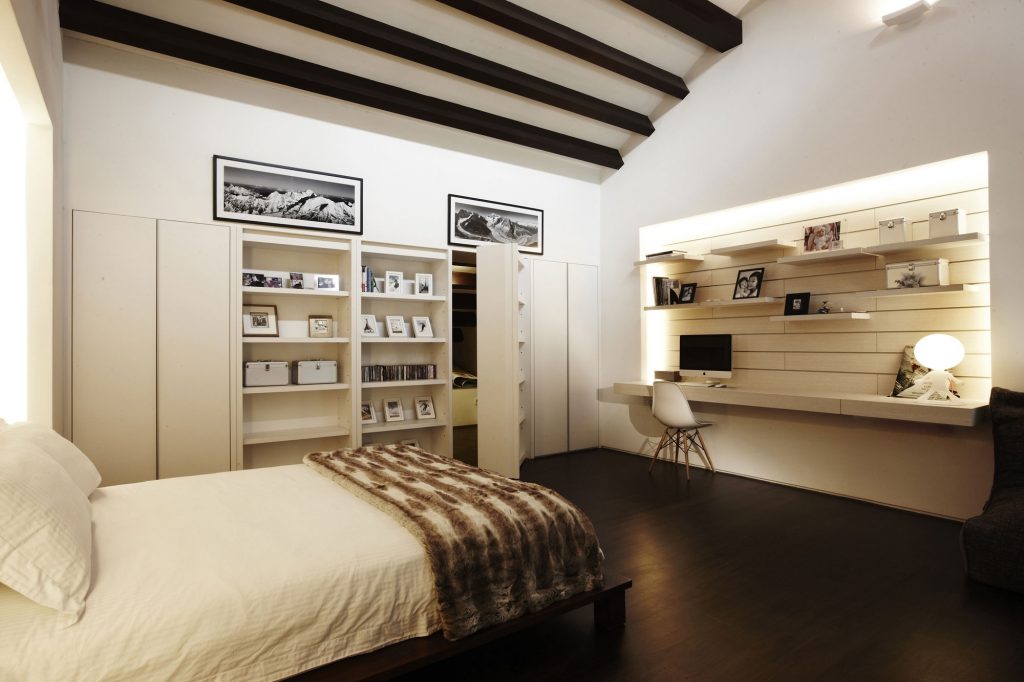 Floating shelves are versatile and stylish, plus they are available in a range of sizes, making them perfect for any small bedroom. You can use floating shelves as a nightstand replacement or entry table, as well as a bookcase or desk.
Floating shelves look modern, minimalistic and are so customisable that they should suit just about any situation.
Open Bedroom Cabinet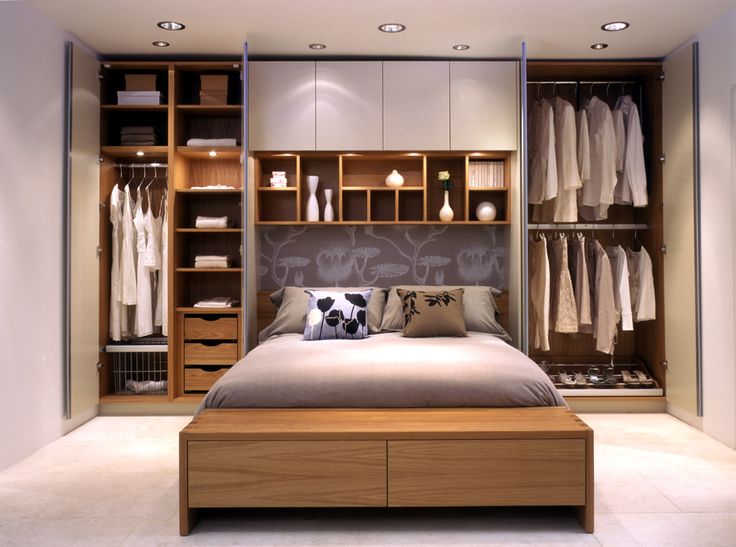 Open cabinets create a very modern look, which is also quite practical. They also work to make your room feel more significant than it is! The key here, however, is to organise everything neatly ensuring the shelves have a symmetrical look.
The last thing you want is too much clutter, or shelves looking overstuffed with piles of clothing. Keep everything neat, and items will not only be easy to find but statement pieces in the room.
To take this modern bedroom design one step further, give your cabinets the same design as the bedroom door, this creates a sense of cohesion in a small space. Light coloured cabinets that match the wall will avoid the room feeling crowded, and you can add a large mirror to help increase the feeling of space while also helping when you are getting ready to go out!
Mirrored bedroom cabinet for small spaces
If that one large mirror mentioned above isn't enough, you can up the ante with mirrored cabinets. These have several advantages worth considering including:
The hiding of clutter in the wardrobe.
The illusion of a far bigger room.
Light reflection for more illumination.
Even more mirror space to help you ensure your outfit is on point.
A full wall of mirrored cabinets increases your storage space while also providing the benefits listed above. Just ensure the rest of the room is predominantly white to keep things bright and big.
Overhead bedroom cabinets
Busy looking small bedrooms are not always a bad thing if done correctly. Overhead cabinets above the bed not only optimise the space, but they also provide a lot more areas to store and display things. You can vary the size of the shelves to create a more unique look while suiting particular areas to certain items.
For example, you may have bigger shelves for large framed artwork and smaller ones for sets of figurines. Once again, having these painted white will create a neat, classic look, putting the focus back on the actual display pieces rather than the cabinets.
This strategy is perfect for book-lovers who can create a mini-library in their bedroom, plus the spines of books make for beautiful clutter. This also makes it easy to access whatever book you will be reading before bed!
Making the most out of a small bedroom with H&H Cabinets
The small size of your bedroom, or even a whole apartment, should not be a deterrent for a minimalist way of living. H&H Cabinets can help you make the most of a small space, providing extra storage, style, comfort, and functionality, no matter how many square metres we have to work with.
H&H Cabinets are a professional cabinet maker company who specialise in creations that suit your personality, style, and budget, that work perfectly in your space, including but not limited to: kitchen cabinet, laundry cabinet, home office cabinet, Built-in cabinet, bathroom cabinet and living room cabinet, etc.
We are one of the top providers of quality cabinet creation and installation in Australia. It is our job to know which design trends are current andoffer longevity that will work in any space. This knowledge, combined with our existing vast experience, ensures the best storage solution for every client.
Speak to us today about how to make the most out of your small bedroom, while creating a stylish, beautiful, and practical set-up for you to start and finish your day in.
Make no mistake, the bedroom is one of the most essential areas in your home, and with a little help from H&H Cabinets, we can ensure that yours is set-up in the best way possible, that will impress every time.