Modern and Contemporary Living Room Cabinet Design
H&H Cabinets
The living room is where you spend most of your time in your home. It's also where you host any guests who come to visit. It's the beating heart and should be the standout room which leaves a lasting impression. H&H Cabinets is a professional cabinet maker in Melbourne that you can trust with your living room cabinet design. 
Having a living room cabinets transforms your living room into a beautiful, functional space. Not only is it organised, but it's also practical. It draws your eye to the synchronisation and room's design.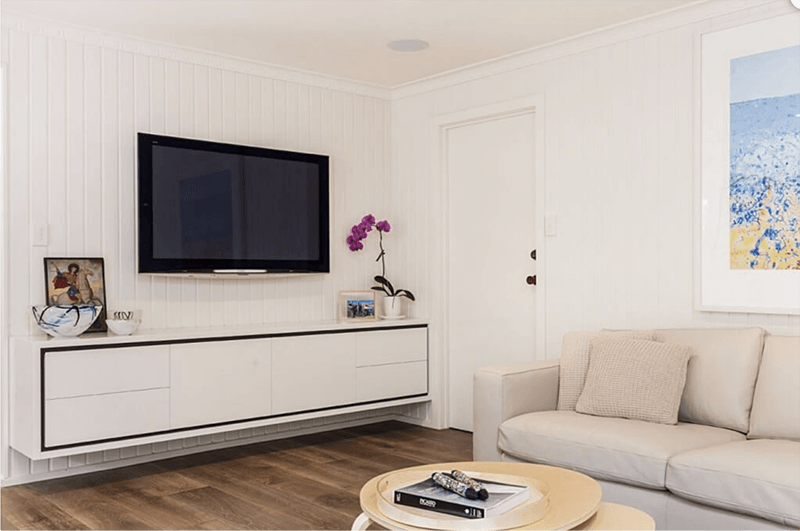 Let's take a look at different modern and contemporary design elements to suit your home. Find the right aesthetic to match your storage cabinets for living room. 
What is contemporary living room cabinet design?
Stripped back, the word "contemporary" refers to something "of the moment." Because of this, contemporary design is a lot harder to define than other styles. As far back as the 1970s, contemporary design has borrowed components of modern, Art Deco, traditional, and futuristic design. 
Modern and Contemporary Design
For the best of both worlds, contemporary design incorporates modern pieces and elements. To achieve a stunning design, modern pieces should be mixed with non-modern elements. Such as mixing a shag rug or low sofa with a concrete floor or wall mural. 
Best Contemporary Design Elements
The living room storage cabinet makes a perfect centrepiece for the room. The following modern design touches and contemporary elements can help compliment it, and bring a space to life. 
Colour Choice – Neutrals Work Best
Neutral shades form the foundation of contemporary design. You should heavily lean towards more 'masculine' colours like blacks, whites, greys, and tans, which are mature and muted colours. 
If you want to mix it up a little bit, you can also use bold solid colours. But they should be used sparingly, and mostly to add an accent shade throughout. 
It's up to your personal preferences whether you want to stick to neutral colours or add a dab of colour into the mix. If you prefer neutrals only, then by adding texture to your design, it will help to create a visually appealing space. 

Clean and Sleek Lines
Contemporary design is all about being down to earth and omitting any overly decorative items. Instead, they are replaced with clean and simple contemporary forms. 
Colourful and Oversized Artwork
Contemporary art walls often feature softer art. But it's when including oversized and colourful pieces, that it transforms to a contemporary feel. Otherwise, you can swap out the art pieces for a geometric wallpaper backdrop. 
Innovative Storage Solutions
A huge part of modern and contemporary design is the use of hidden, smart, and unexpected storage solutions. H&H Cabinets uses modern equipment combined with state-of-the-art technology. This allows us to optimise a long cabinets for living room storage which provides a beautiful and functional appeal.
Tailored Skirts
When it comes to fabrics, contemporary design strongly leans on a clean and simple aesthetic. This means, without any ruffles or excess fabric to provide a contemporary touch. 
Colour Blocking
A contemporary scheme generally utilises colour, which makes a space feel and look new, fresh and inviting. This can be achieved with colour blocking by using the accents of a contemporary space. An example is taking a rustic wooden table and then painting the ends with white colour blocks. 
Reflective and Black Accents
Accents which go well with contemporary design include nickel or chrome finishes. As well as mirrors, glass, ebony wood, as well as other materials. 
The contrast of a low-slung black sofa to a glass coffee table works well in a modern and contemporary living room.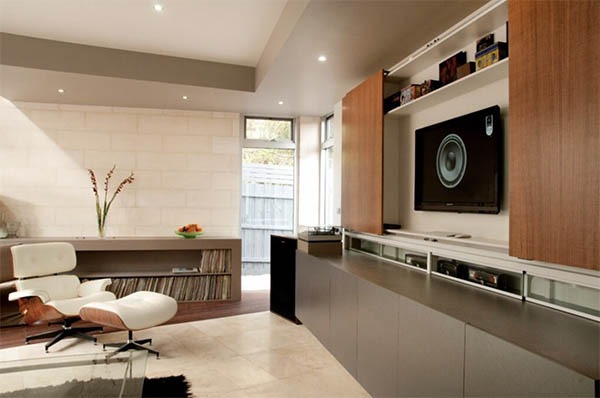 Related Posts: 
Patterns
In modern contemporary design, geometric and classic patterns form a huge part. They allow you to add subtle contemporary vibes. 
Layers, Layers, Layers
Contemporary layering is somewhere between the minimalism of modern interior design and the excessive elements found in traditional design. A strong focus of layering is to incorporate spontaneity and friendliness into space which may otherwise be dull. 
Always Evolving
One thing about contemporary design is that it's always evolving. Over time there are subtle shifts, but the style is never 'finished', it's always moving. This makes up a huge part of the essence of contemporary design and what keeps it at the forefront of modern design and always relevant.

Form Vs Function
When putting a room together, it's usually recommended to focus on function over form. But with contemporary design, both form and function have to be given equal priority. 
Luckily, any living room cabinet made by H&H Cabinets is not only functional. But it is also a combination of aesthetically pleasing, durable, stylish, and high-quality. 
Form is one of the underlying foundational elements which formed contemporary design. It is also one of the aesthetic elements which help set apart the style from modern design. 
When talking about 'form', it is really referring to shape. Modern design made strong, clean, and almost box-like lines famous. Contemporary design pushes things a bit further. 
A modern and contemporary living room cabinet design mixes both straight and elegant curved lines to perfection. This is often a shout out to the roots of Art Deco design.
For best results, eye-catching lines are incorporated to add variety throughout the design. 
Why Living Room Cabinets Work Well With Modern & Contemporary Design
Not only does living room cabinets offer a sleek style, but they also provide valuable storage space, without taking up any extra room. They can be built specifically to suit your space and your functional needs. Doing so allows for unlimited options for you to find the best solution for your needs.
Simplistic Features
Living room storage cabinets can help to enhance the contemporary feel of a living room. This is most commonly done by utilising a streamlined silhouette through geometric simplicity. 
Timeless Designs
A traditional white storage space which is open on the top and features closed storage on the bottom will never go out of style. What if your tastes change over time? Well, you can be sure that a simple living room cabinet will fit with any theme if you redecorate.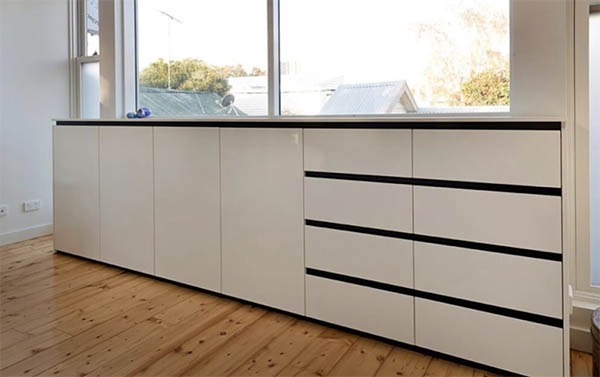 Are you looking for cabinet maker in Melbourne? H&H Cabinets are here to help. Trying to find the right materials, layout and appliances for your ideal living room storage cabinet can be a tricky decision. It can also take a lot of research. To help you decide on the perfect cabinet, call our expert team on (03) 9808 4200 or contact us online.