The Benefits of Custom-Design Laundry Cabinets
H&H Cabinets
A custom set of laundry cabinets can be the defining way to increase the value of your space. Generic laundry storage options often fail to meet the specific needs of the user, and spending that little bit more on an integrated laundry room design can often make for a more productive laundry process, saving time and hassle.
Many modern, smaller living set-ups can make it feel like you don't really have a laundry room, but this can be offset by custom cabinets which can create a design better tailored to your needs.
As the custom cabinet experts, H&H Cabinets have put together some information on the benefits of custom cabinetry to help those who may be on the fence about whether or not to include them in the plan of their home or add some as part of a remodel. Read on to learn the benefits of custom laundry cabinets.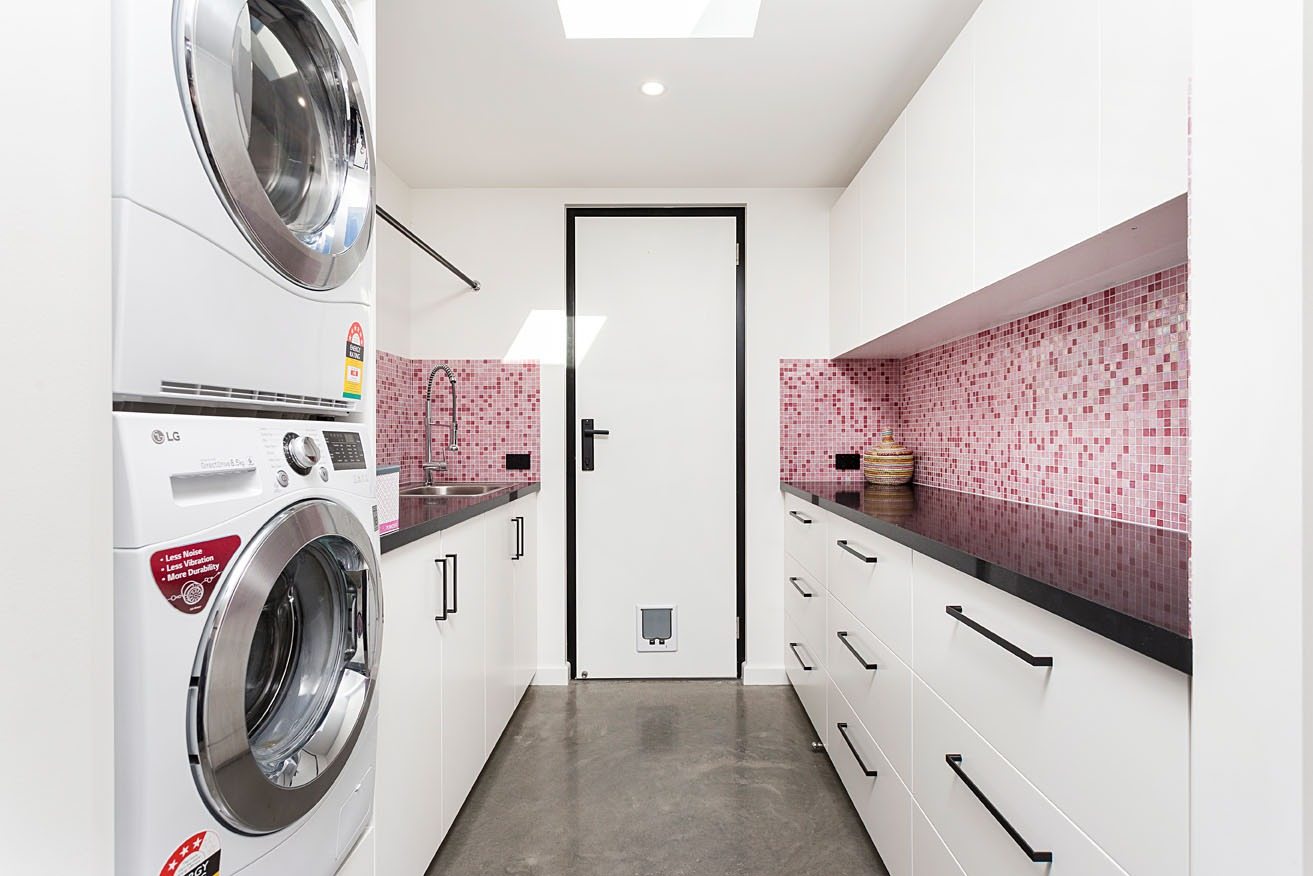 It's all about seamless integration
The goal is an all-purpose laundry station that makes the very important tasks performed in your laundry much easier. This can be done with quality cabinet designs and layouts based on your individual requirements.
Storage solutions, space for your iron and ironing board, and even a folding station are all valuable possibilities. The smallest of spaces can be fully utilised with the right cabinet plan. Pre-designed cabinets often have a one-design-for-all-spaces approach which doesn't always work, and custom cabinets are the solution to this.
Making the most out of the garage laundry
A very popular modern home plan often pops the laundry into the corner of your garage. This does not mean it has to be any less of a laundry! In fact, it can be a little better as you keep the workspace away from the nicer visual aesthetics of your home.
A neat laundry room design means having a place for everything, and the correct laundry storage is vital. A garage laundry room with durable cabinets and adjustable shelving keeps the section looking smart while also streamlining the laundry process of laundry day.
The importance of cabinet construction
Your laundry cabinets need to be able to handle quite a bit. You have to maximise your storage to account for cleaning products, appliances, the ironing board, and a space to hang damp clothing. Laundry cabinets that provide stability and space will significantly increase your ease of use for the laundry area.
The design can incorporate space for the washer and dryer, storage cabinets, quick access to soaps, and drawers with extension slides or space to store a hamper.
Adding counter space
If the room permits a space to fold your clothes and dry delicates can be worked in for even more convenience. Ironing boards can be stored underneath these bench systems, and a sink can also be included in the design plan to increase the utility of the space.
The goal is achieving the best functionality for your home, and cabinets are a surefire way to do this.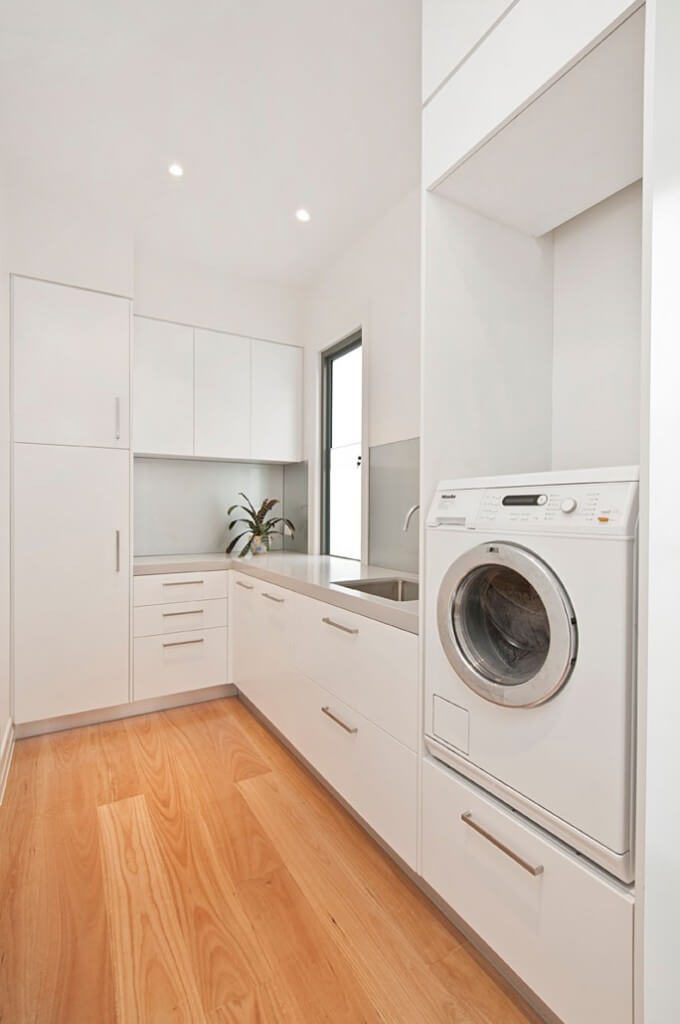 Did someone say storage space?
If you are in the process of designing or redesigning your laundry, avoid making the mistake of allowing for less cabinetry than you actually have room for. This can be an issue with stock cabinets that come in specific sizes, hence wasting a lot of unused space. Your custom design makes the most of every inch, so if you only have a small laundry area, a custom option will make it as big as it can be. It's not always about space; smart design can often create a lot of extra room as well.
A great use of your extra space is a divided hamper that does the work of separating your colours so you can save time when it comes to doing the loads. Little design implementations like this make for a much easier task each time you come to do the laundry. It's not just the components that make your cabinets which are of a higher quality when going custom, but also the design of how they are used.
Properly built and installed custom cabinets should consider more than just the look. While custom cabinetry is very often exquisite work with intricate joints, dowels and other features, it should also consider use. If your cabinet design can also make your life easier, that is a very worthwhile investment.
Considering the environment in your redesign
The final benefit in opting for a custom laundry cabinet option is having far more control over where the materials you use were sourced. If you are conscious about your ecological footprint (as you should be) custom cabinets are the only way that you can truly select eco-friendly or recycled materials.
This will also give you a much more unique look as the sourcing of local or domestic hardwoods reduce the impact on the environment and make great use of easily accessible or recycled materials.
Getting started on your custom laundry cabinets
Simply call H&H Cabinets, and we can get started on the process of building your custom laundry cabinets. We will work to your budget while ensuring our professional cabinet makers create a setting truly unique to you and your home. We'll unlock the true capability of your space and work closely with your ideas to make sure you are thrilled by the result.
If you are about to re-design or build, let us know, and we'll get involved from the first step, avoiding costly time-consuming issues. Our team will apply our expertise to materials and lighting, design, installation and more. You can view our stunning portfolio for examples of our quality work, and we are always on hand to offer helpful information. Speak to the experts at H&H Cabinets and let's get started today!