How To Take Care Of Your Kitchen Cabinets
H&H Cabinets
You have had a newly installed kitchen cabinet and you have no idea how to best prolong the life and beauty of them. While it takes great care building top-quality cabinetry in Melbourne and ensuring your cabinets arrive and are installed in excellent condition, normal daily use will require small retouches and corrections.
So, by maintaining your new kitchen cabinet, you will not only increase the useful life of cabinets, floor, wall coverings, and appliances, you will also enhance your enjoyment of the space.
Kitchen Cabinet – the central focus of every kitchen
And we also know that kitchen cabinet is the central focus of almost every kitchen, so when the cabinets are dirty your guests are bound to notice. Everyday fingerprints, watermarks, and food splatters are normally the main perpetrators, but tougher stains build up over time.
Lucky for you, we have come up with some easy kitchen maker cleaning tips. These will help you take on all types of messes on all types of surfaces. At the end of the day, what works on a painted cabinet might not work on a laminate cabinet. You can always chat with us at HH Cabinets if you are not sure.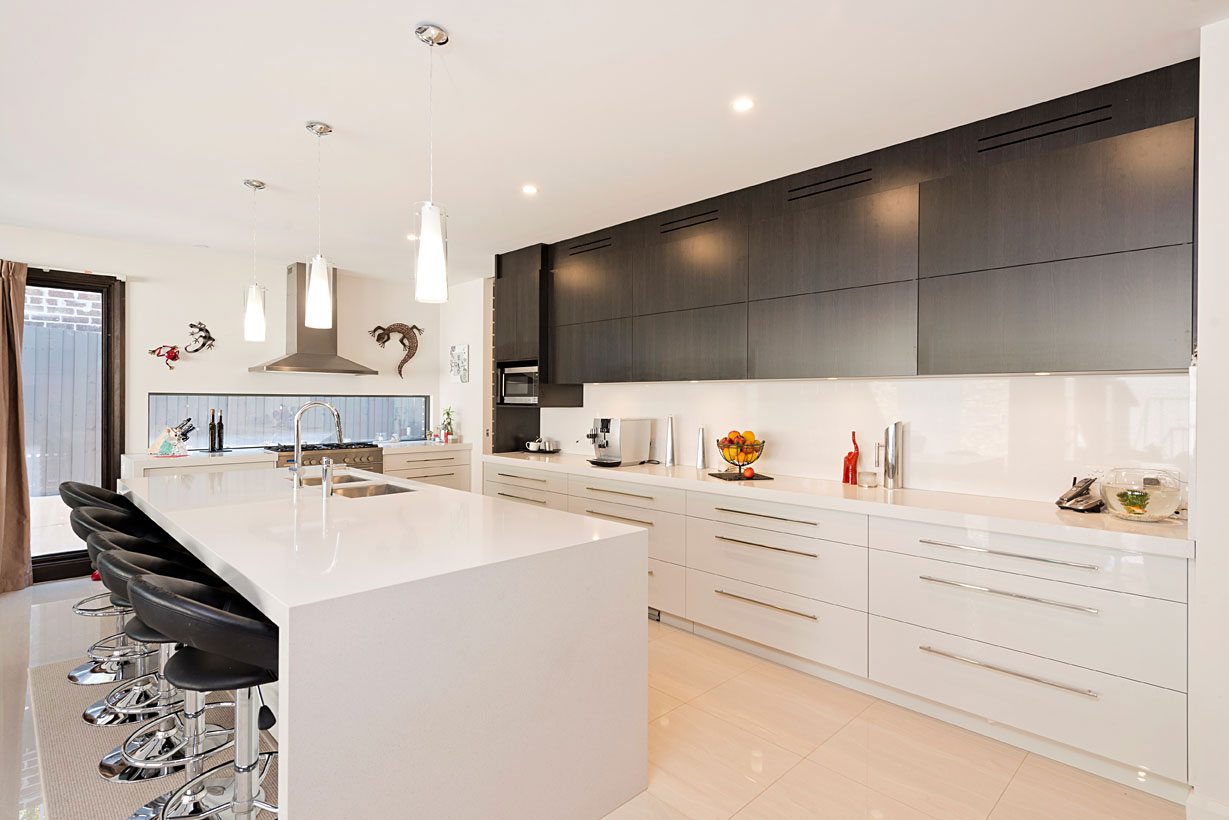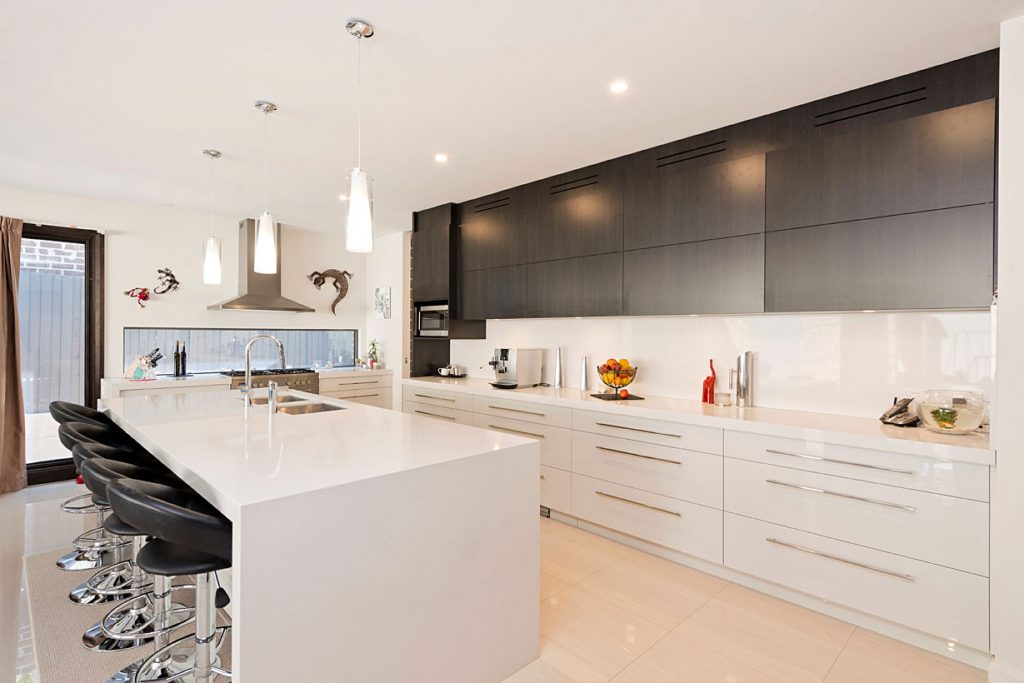 Wood kitchen cabinets
With proper care, your wood cabinetry can provide you with a lifetime of use and satisfaction. Proper care involves careful cleaning and polishing but never use damaging household cleaners. Wood is a natural product and has inherent variation. Its beauty lies in the grain and hue.
Once installed and if you are cleaning for the first time, wipe your wood cabinets with a soft, damp cloth and dry immediately with a clean, soft cloth. Ensure you always wipe in the direction of the grain.
If you apply a polish ensure it does not contain wax or silicone, and always follow the directions for applications. A quality polish will help to protect your surfaces from minor scratches, stains, and excessive moisture.
Remove grease and grime build-up with a soft cloth dampened with warm water. Do this at least once every few weeks, or more if you use the benches and cabinets frequently. Should water alone not clean your cabinets completely, try a little mild dishwasher soap with water, and use a soft dry cloth to remove the remaining moisture.
As a last resort, if your wood is still not clean, create a mix of baking soda and water. Place the paste on a sponge and work at the stain. Rinse with water and use a soft cloth to dry. Vinegar mixed with water is also a great option for removing sticky grime and film.
Bear in mind that you will need to wipe up any spills immediately. Many substances can be difficult to remove and may stain or cause other damage down the track. So, wipe spills promptly with a damp cloth or sponge and dry the surface straight after. Use a blotting action rather than a wiping one to remove spills.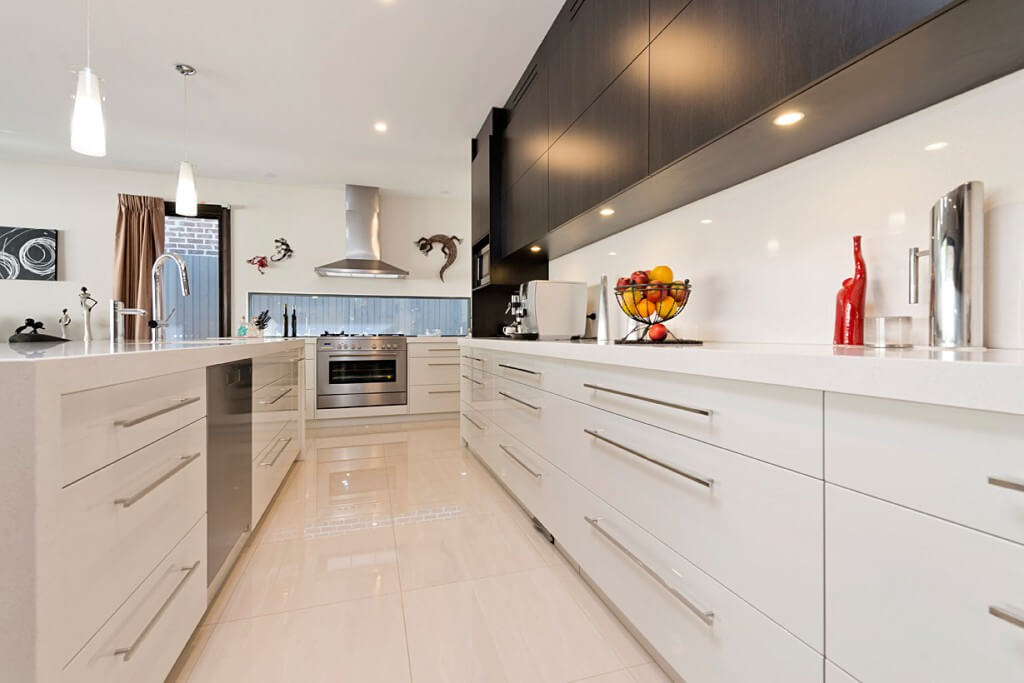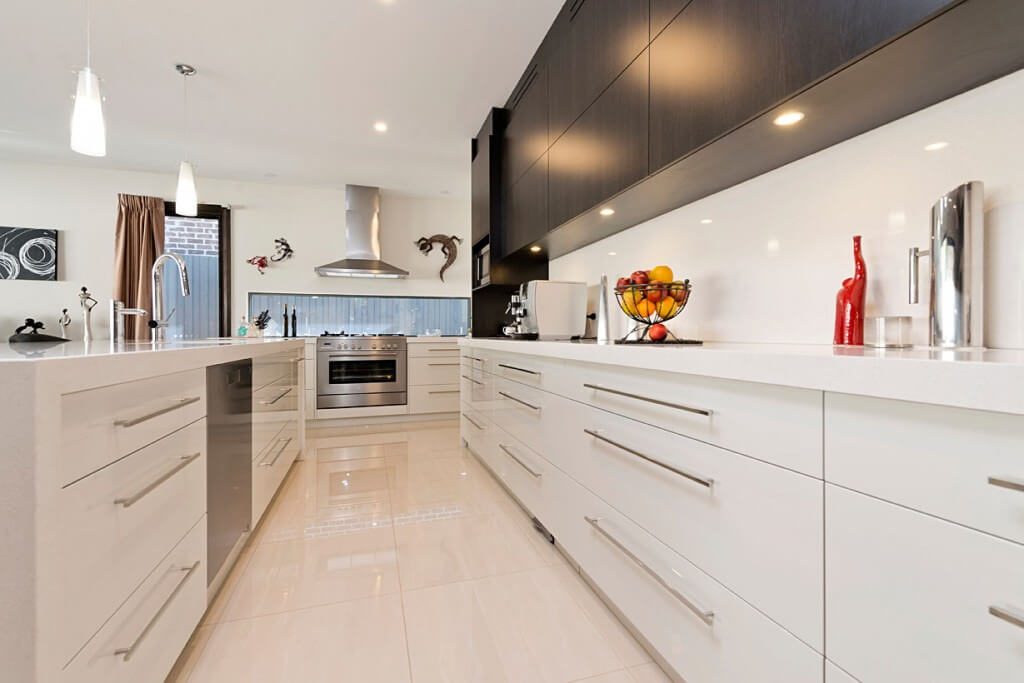 Laminate kitchen cabinets
Treat our laminate products with proper care and they will last a lifetime. As a general rule, all you need is a damp sponge for everyday maintenance. Wash the surface using a soft cloth with warm water and mild dishwashing detergent. Rinse with warm water and dry using a soft cloth.
To remove stubborn spots and stains, mix baking soda and water to create a paste. With a soft bristle brush gently rub the stain in a circular motion. Press very lightly because the paste will become slightly abrasive. Rinse and dry using a soft cloth.
If the stain remains even after repeating this process use undiluted household bleach but make sure the label reads '5% solution of sodium hypochlorite'. And as you probably already know, be sure to take special care to protect your eyes, skin, and clothing.
Apply the bleach using a paper towel or wet sponge, place it on the stain and keep it there for no longer than one and a half minutes. Rinse continuously with warm water and dry with a soft cloth.
Related Posts: 
Painted kitchen cabinets
Painted cabinets are quite popular in the kitchen cabinet. They are an easy way to give kitchens a splash of new colour and warmth without having to do a complete kitchen renovation. But as with any paint project, painted cabinets require some maintenance to keep them looking good.
As with wood and laminate cabinets, you can mix water and baking soda for an easy and cheap spot cleaner. Dab the paste onto the spot, allow it to sit for a few minutes, and wipe clean. Wipe up any remaining residue with a clean cloth.
To get rid of grease off kitchen cabinets, use a cloth and diluted ammonia to gently wipe until the stain disappears or is at least less noticeable.
After some years the paint may begin to wear and chip so you can consider repainting the cabinets.
Glass kitchen cabinets
Glass kitchen cabinets are not solely glass and often mixed with another material such as wood or laminate to create a paned door. In fact, it is quite simple to clean but make sure you choose a substance that won't damage the adjacent cabinet material.
Use glass cleaner and a polishing cloth to remove fingerprints, spots, and stains from the glass panes and clean cabinet doors from the inside too. Always avoid oil-based cleaners on the adjacent material as they can leave residue and streaks on the glass.
Additional protective measures  
So, cleaning your kitchen cabinet is not an arduous task but there are some products and ingredients that could damage the material so you should avoid using them. These include:
       

Petroleum-based products

       

Solvents

       

Strong detergents and soaps

       

Nail polish remover

       

Paint thinners

       

Plastic brushes

       

Steel wool

       

Scoring pad
Also, avoid excessive moisture. It is one of the worst enemies of any cabinet material. As you would imagine, cabinetry near the sink, dishwasher, and baseboards are most susceptible. Dry off any areas immediately where water has spilled and avoided draping damp dishtowels over doors.
And something you might not have considered is coffee machines and cabinets. Make sure that coffee machine steam vents are not directed onto cabinet surfaces. It is important you control the temperature and humidity in your kitchen all year through.
Did you know that direct exposure to sunlight can also have a damaging effect on your cabinets especially if they are made from natural wood? Painted wood cabinets and laminated surfaces are susceptible to fading if they are exposed to direct sunlight. So, it is best you have window coverings to help reduce damage caused by exposure to direct sunlight.
Kitchen Cabinet Maker in Melbourne
These are just basic maintenance tips to help you enjoy your new kitchen cabinet for many years to come. Do you have any questions about caring for your cabinetry? Why not contact HH Cabinets? We are an expert cabinet maker in Melbourne. Our kitchen cabinet maker is always happy to help.
Other Cabinet Maker Services: