5 Best Kitchen Layout by an Award Winning Cabinet Maker
H&H Cabinets
If you are thinking it may be time to refresh your kitchen, or you are in the midst of designing a new one, we at H&H Cabinets are your experienced kitchen cabinet maker, here to help with some stylish contemporary kitchens ideas. Giving you a modern and functional refresh to one of the most used rooms in your home!
As an award-winning cabinet maker in Melbourne, we know that modern designs favour minimalist cabinetry, neutral colour palettes, and feature accents. We aim for subtle, yet timeless, elegance, and a blending of styles, so that no matter the look and feel of your home, traditional or industrial, there is an idea for you.
Our pro tip: always add a pop of colour to keep things warm and welcoming, and let in the sun wherever possible. As always we recommend you speak to the experts at H&H Cabinets for a little help to avoid making any serious layout mistakes. Here are some kitchen layout ideas to offer food for thought.
Cabinet Makers Kitchen Layout
1. Dark Cabinets
Yes, we are fans of white kitchens, they look sleek and elegant and add to the minimalist aesthetic. That being said they are very popular, so if you want to go outside of the box a little, dark cabinetry is one path you could go down.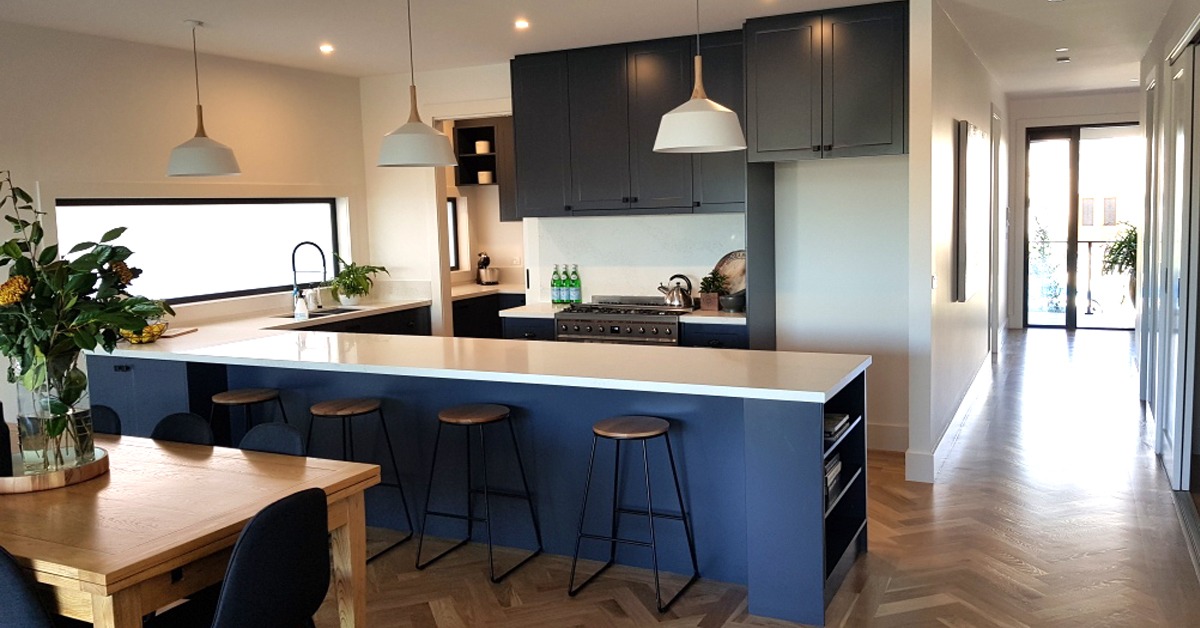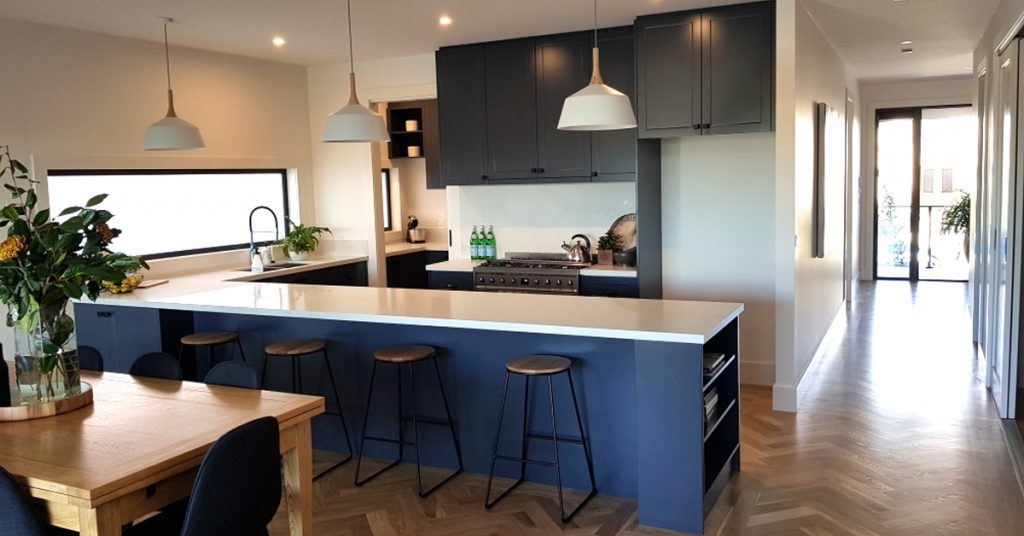 White cabinets are classic and work well with most kitchen styles, but dark kitchen cabinets may surprise you as to how well they can enhance a kitchen space. Dark cabinets offer a dramatic and luxurious aesthetic, which if done well, should not overpower the room. Any darker colour shades fall into this idea by the way, not just black.
Ensure you balance this with lots of natural light, and you have yourself a bold and stylish kitchen look ready to go.
2. Streamlined Everything
You may be getting sick of the word "minimalist" in just about every design article you read but it's been popular for awhile, and that doesn't look like it will change. A streamlined aesthetic in the kitchen is actually a good thing as it makes things functional and safer; the kitchen should be a stress-free environment in which you can relax and focus on the tasks at hand.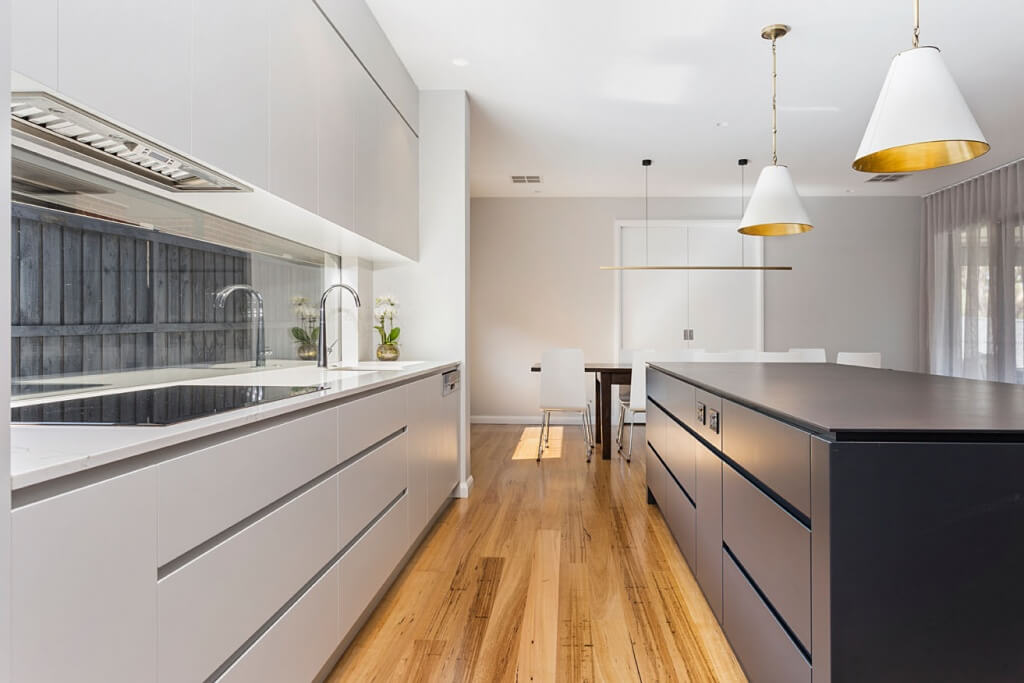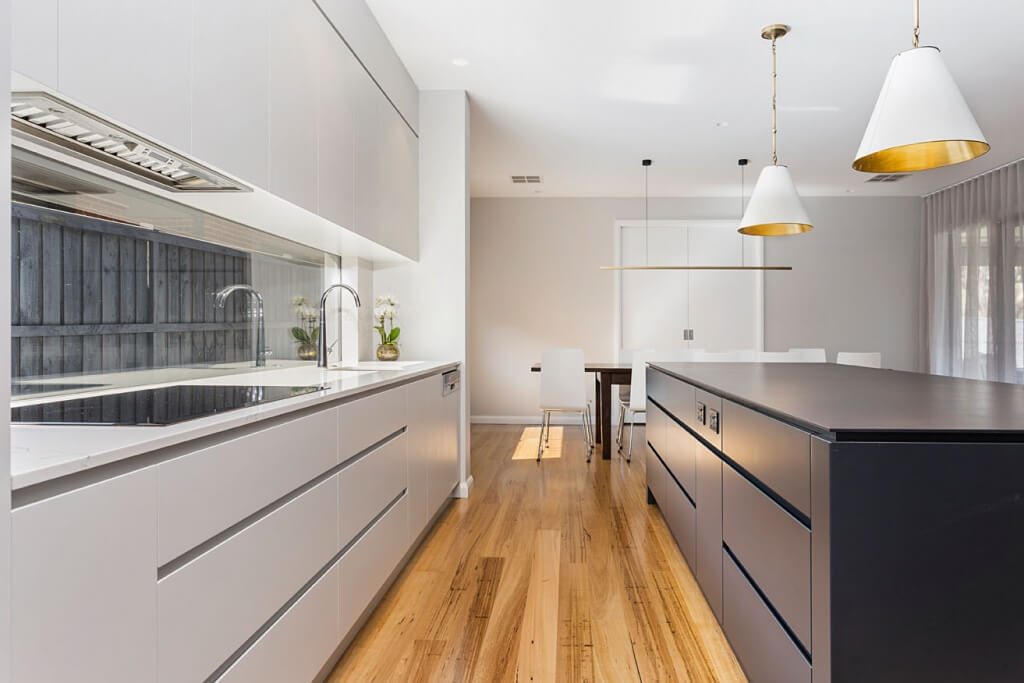 So to create simplicity, you need modern, clean lines, less upper wall cabinets to open up the visual space and brightening the room. You want maximum countertop space and open shelves that have feature pieces as opposed to being cluttered. Streamlining means balancing the texture of materials as well.
You can use rough cut wood or metal tubing depending on the aesthetic you like, floor tiles in natural stone and feel free to have a little fun with the backsplash. Interesting textures can bring a little excitement into a kitchen while still keeping minimalist ideals.
3. Effective Storage
One thing we try to avoid with kitchen cabinetry is the needless waste of space. You see this a lot with basic design and when it comes to the kitchen, the more storage you have, the better, especially if you want to avoid the cluttered look.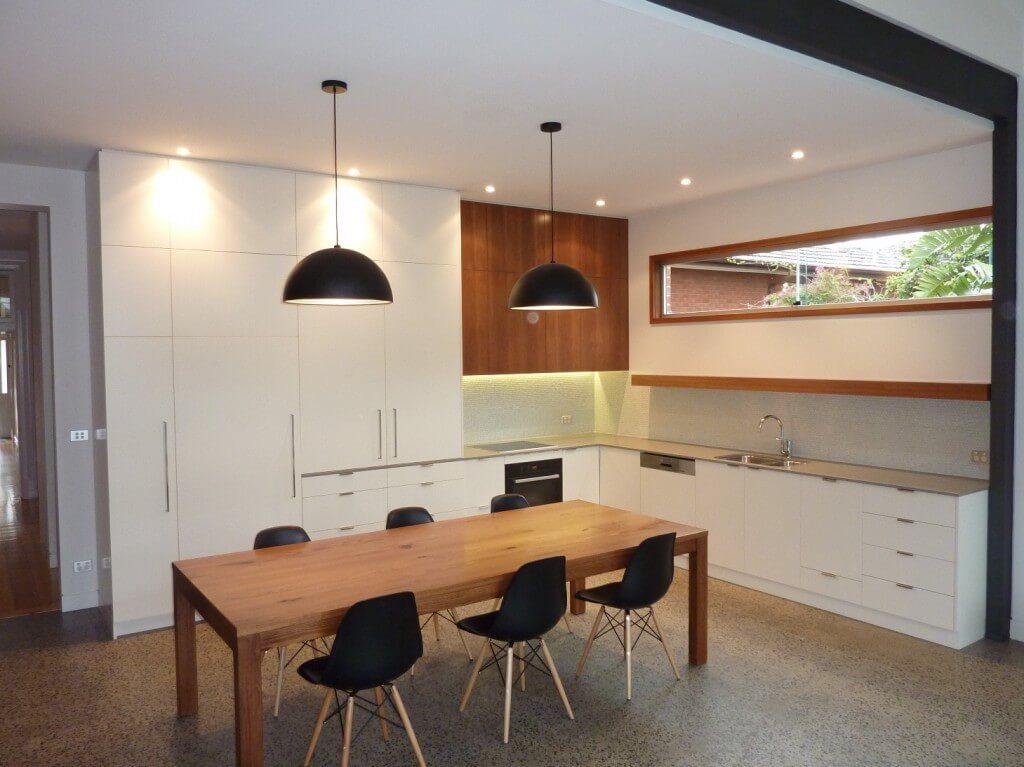 So this design tip is very functional! You can consider things like the appliances garage, drawer dividers for cutlery, pull-outs for spices, roll-out trays for pots and wastebasket cabinets for garbage. Deep drawers and various other kitchen storage options are possible throughout the whole kitchen for a more effortless space.
4. Kitchen Islands
We recommend a single level kitchen island as a focal point in the kitchen, and they can work no matter how much space you have. Larger kitchen islands are great for multiple uses, particularly in cases where you have less wall cabinet space. The kitchen island can be a statement piece while also offering excellent storage solution, seating, serving, and drinking areas.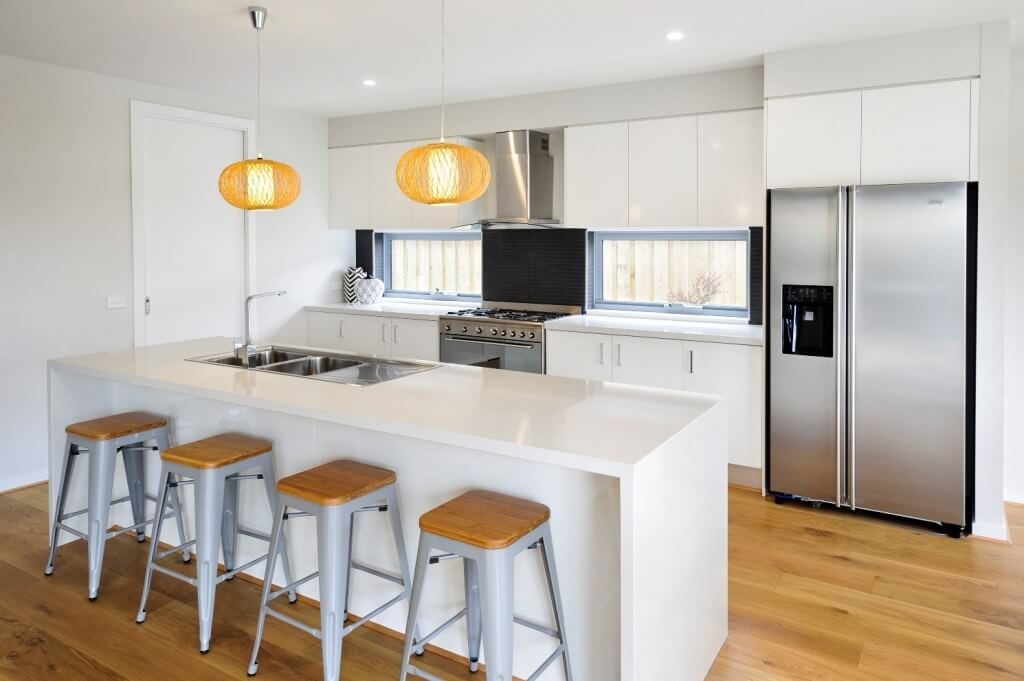 If possible, the kitchen island can extend into the living room if you have an open plan design which works well for entertaining!
5. The Backsplash
We are big fans of the backsplash and believe it can be a fun part of the kitchen utilising an array of trends and styles. We recommend you steer clear of the dated subway tile trend unless you are going for a large size; instead you can experiment with various textures or patterns. Colour choices can be endless, and your personal taste can be the deciding factor.
Using a pop of colour with your backsplash is on trend right now, but neutral patterns that compliment a natural texture is another great option if you want to tone it down and be a little more timeless.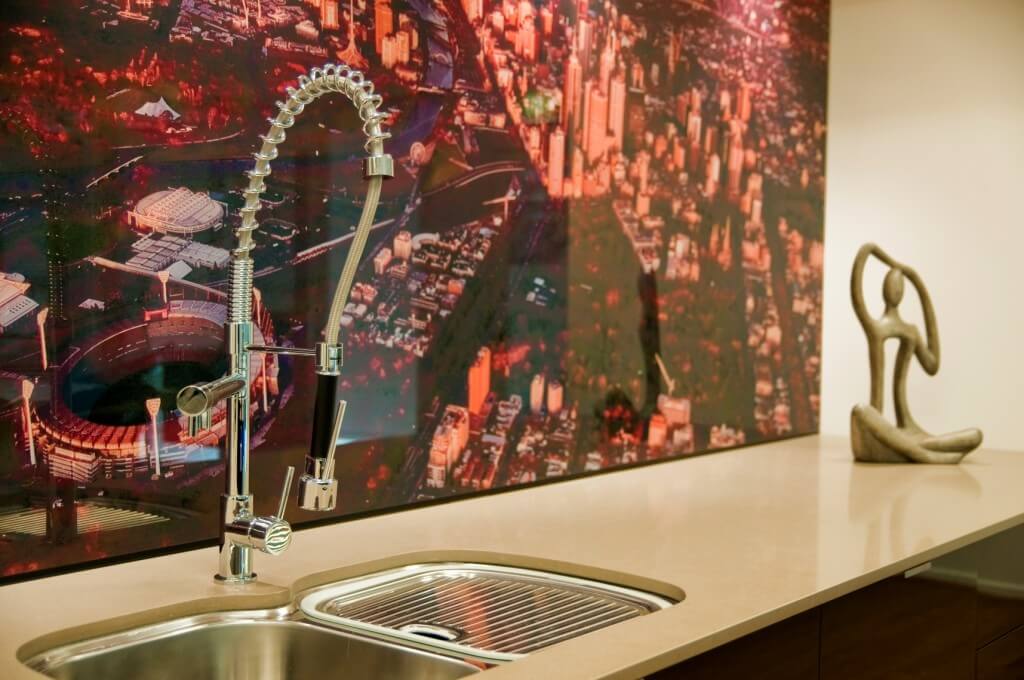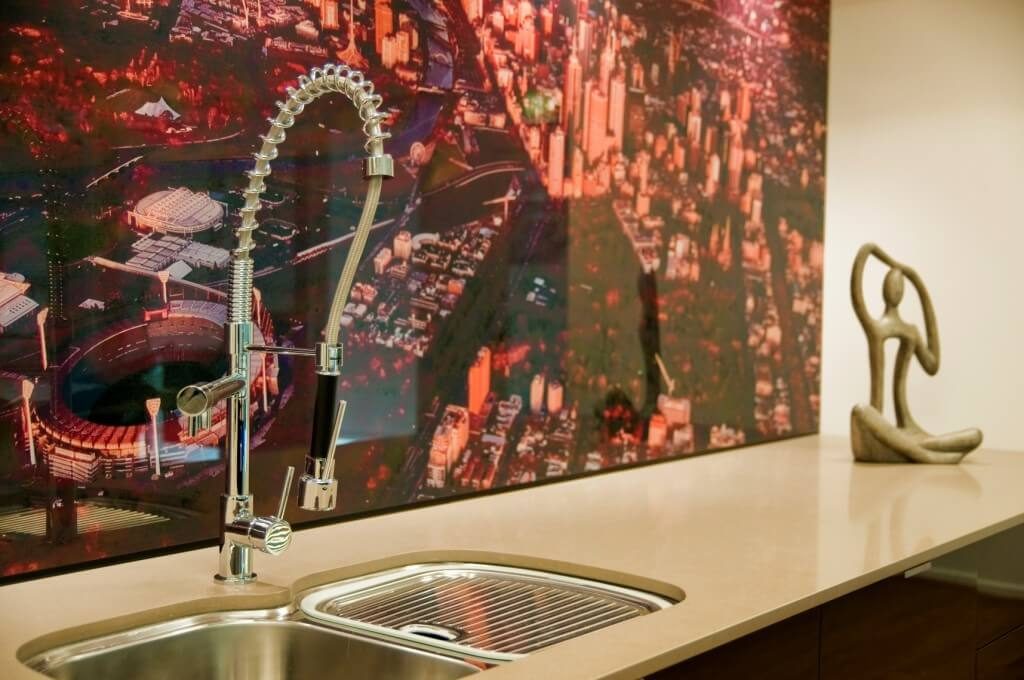 The other thing to consider with the backsplash is the size. At the moment, people are loving huge backsplashes to make a mini-feature wall in the kitchen. You can use a slab of marble, quartz, wood, stainless steel, and anything else rising all the way to the ceiling.
Let an award-winning cabinet maker help you out
H&H Cabinets, is an award-winning cabinet maker that works to your budget to create a space that you will love for many years to come. We've handled projects of all shapes and will work with you to create a functional, and above all, attractive space that you'll want to spend all of your time in! We treat every kitchen design as if it was for our own homes.
H&H Cabinets are a professional cabinet maker company who specialise in creations that suit your personality, style, and budget, that work perfectly in your space, including but not limited to: kitchen cabinet, laundry cabinet, home office cabinet, Built-in cabinet, bathroom cabinet and living room cabinet, etc.
Trends will come and go, which is why we work with you to find something that will last for awhile without ever seeming dated. We keep up with all of the developments in kitchen design so you know that you always have the most up-to-date information when you work with H&H Cabinets.
Contact us today with your specs and ideas, we look forward to helping you create your dream kitchen today!
Download a Copy
Care & Protection of Your New Cabinet