Cabinet Maker Tips for a Successful Kitchen Renovation
H&H Cabinets
There are a lot of positives to an updated kitchen. Besides, a new look to enjoy a kitchen renovation can add value and functionality to one of the most used and essential sections of your home. However, before you start searching for kitchen cabinet makers near you, there are some things to consider to make the kitchen remodeling process a little less daunting. 
The group you engage to help with your renovation is very important, and you can help identify the right one for you while getting a handle on the process to ensure your success by considering these tips to ensure a successful and speedy remodel. For more information, H&H Cabinets are the kitchen renovation experts with many successful refresh projects under our belt.
Tip #1: Nailing the kitchen island
Even experienced builders run into issues during remodeling, and the kitchen renovation can be one of the most complicated and expensive rooms to work on in the home. In our experience, when handling a kitchen renovation, Melbourne homeowners need to navigate a veritable minefield that can often be eased with careful planning.
Let's start with one of the most critical elements, the kitchen island. Some kitchens aren't big enough for one, and you can check this by ensuring you have at least 36 in. of clearance the full way around where you want your island to be. Even better if you can achieve a clearance of 42 in. or 48 in. to be even more ideal. 
Pro tip: The main thing to keep in mind for your kitchen island is that it will also require electrical outlets, preferably one on each side.
Tip #2: Don't skimp on the electrical work 
It is never a great idea for homeowners to do their own electrical work as there are code requirements, and more importantly, your safety to consider. 
Hiring a professional will ensure that everything is installed correctly to avoid the risk of fire damage, electrocution, or failing systems down the track. They can also help with your outlet and wiring design to ensure functionality while making sure you have access to power in the places you'll need it. 
Tip #3: Make a schedule 
Planning is one of the most critical elements of a kitchen renovation, so don't start demolishing your old kitchen until your new appliances, cabinets, and other major components are ready to go. This will help you confirm the exact measurements for all installation specs. 
You should also schedule subcontractors well in advance as the most successful remodels are carefully choreographed.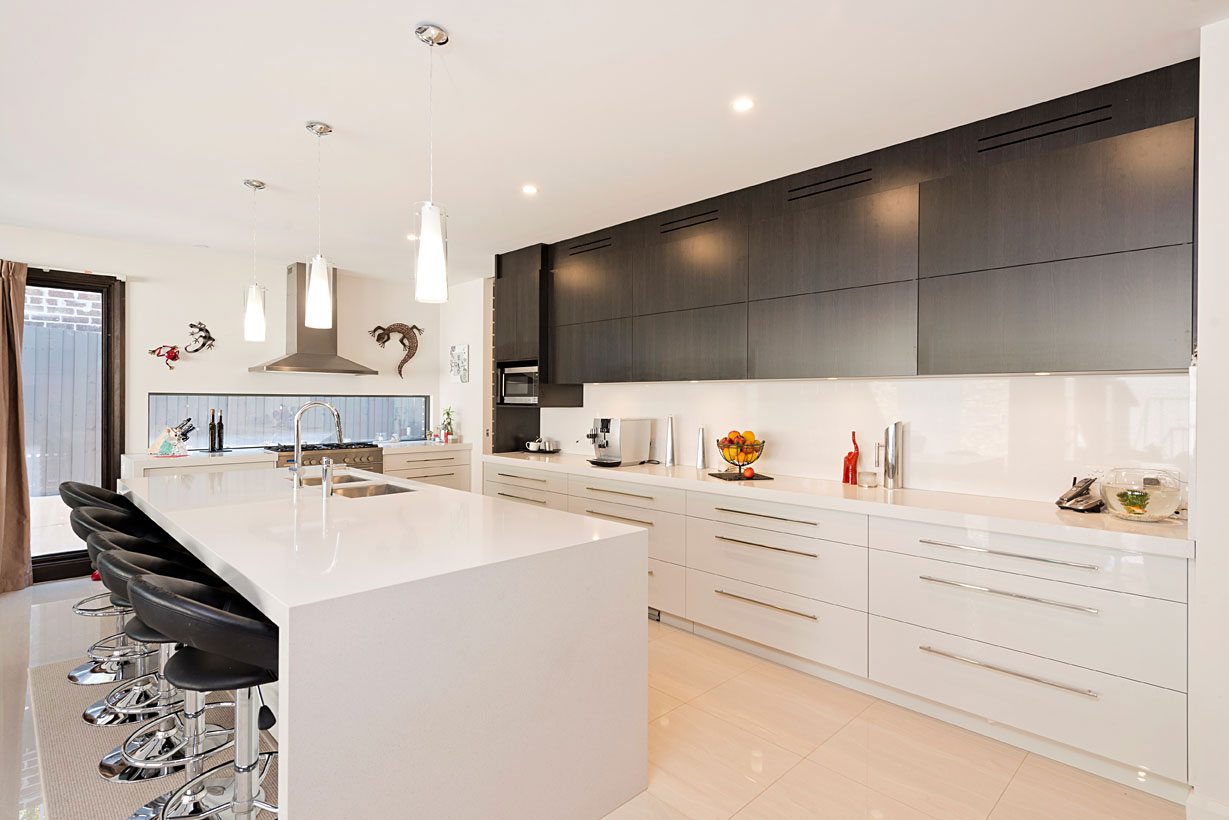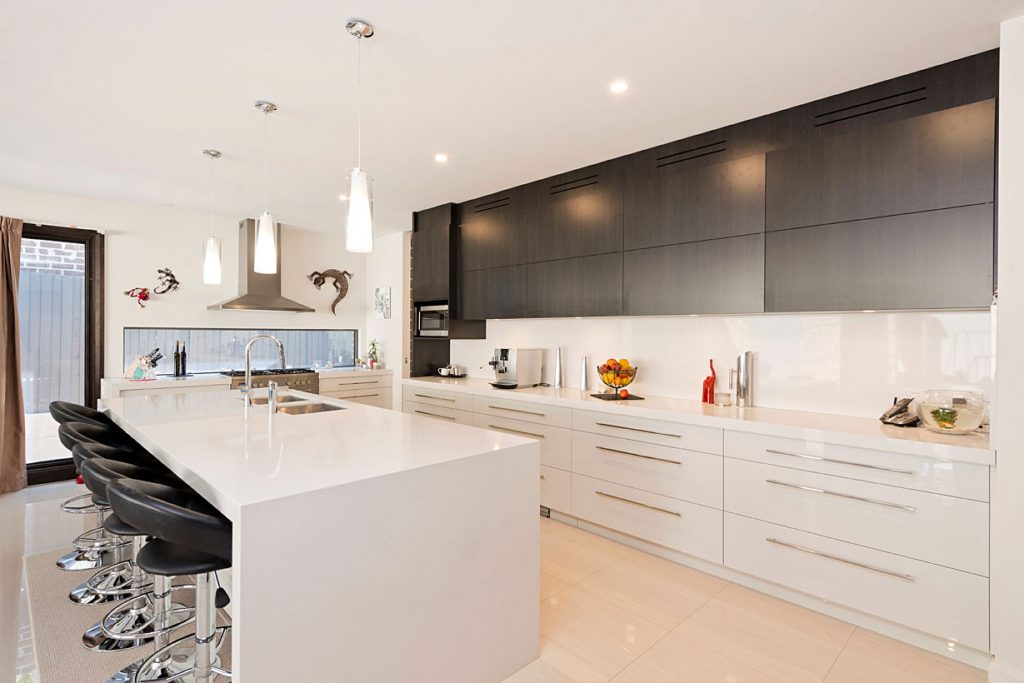 Tip #4: Really think about your layout
In most kitchen renovations, homeowners want to open up the kitchen to other rooms. Never assume you can simply remove a wall as some are load-bearing, so it is vital to know which is which before grabbing the sledgehammer.
It can also be a trap to assume the sink, stove, and refrigerator need to remain in their current spots as plumbing and venting, while expensive, can open up a range of new possibilities when moved. H&H Cabinets can bring some fresh ideas to the table in terms of layout, and many of our customers are amazed by the options we reveal to them for their homes.
Tip #5: The importance of ventilation
Unfortunately, many people forget about ventilation or leave it as an afterthought when it is too late. Never relocate the cooktop without thinking about ventilation. Some building codes will not require a range hood ducted to the outside; however, it is recommended. 
Pro tip: It is always a good idea to keep the duct runs short and straight and consider where the vent will terminate outside.
Tip #6: Smart cabinet installation
A lot can be done with cabinets these days to increase the storage of your space. H&H Cabinets are the experts at this, but before you look at your cabinets, it can be a good idea to assess your existing conditions to see if the floors slope or the corners are square.
From here, professional help such as ours can make sure you maximise your area while achieving a stunning look with your cabinetry. 
Tip #7: Ensure your flooring is practical as well as beautiful
If you are shifting to tile, ensure you are not creating a trip hazard due to elevation issues at doorways. Tile usually requires a layer of plywood or an isolation membrane to prevent cracks. 
If you are keeping the existing floor but changing the layout, ensure all flooring runs under the new cabinets and appliances so you can avoid the patching of holes. 
Tip #8: Good lighting makes a great kitchen
A dark kitchen is a problem. A mix of ambient and task lighting is the modern trend, especially with the inclusion of recessed lights. The location here is key. Avoid working in your own shadow by making sure you have a centerline of lights over the countertop nosing.
Looking for the perfect
kitchen renovation in Melbourne? H&H Cabinets can help
H&H Cabinets are the kitchen renovation experts, we have helped many Melbourne homeowners to refresh their area with results they absolutely love. If you are stuck for ideas or have some of your own, we can work with you to make your dream kitchen a reality.
Simply call H&H Cabinets today; we are professional cabinet makers that specialise in the design of kitchens of all sizes and budgets. We will work in collaboration with you to find which kitchen features will work best in your home while maximising your space.  
Our expert team can ensure that your creative ideas avoid any potential problems taking into account specific materials, lighting, placement, and more. Get some helpful information from H&H Cabinets today and let's begin the process of creating your new, stunning kitchen 
Relates Posts: