10 Kitchen Layout Mistakes That Will Cost You Later
H&H Cabinets
When renovating or designing your kitchen, you are likely spending a decent amount of money and hoping for a result you will love for many years to come. Kitchen Cabinet Maker in Melbourne will help you design your dream kitchen layout.
You need to consider everything from what kitchen looks like to the kitchen layout! It can be difficult because while it is a room in your house that you want to look fabulous, it also needs to be a functional workspace.
There are plenty of different design styles but the layout, which will vary based on the home, needs to be designed correctly for maximum efficiency. To help, H&H Cabinets have compiled ten kitchen layout mistakes you'll want to steer clear of to ensure your design is practical.
1. Leaving out the backsplash
For many designs, the backsplash is an afterthought or left out completely, and this is a huge mistake. Some people even leave it off to shave some money off the budget, but what they don't realise is they are setting themselves up for more costs further down the track.
Elements like steam, grease, and spills are inevitable in the kitchen, especially around the cooktop, and your cleaning efforts will be far easier on tile or metal, saving the paint on your walls from needing touch ups or more in-depth cleaning. Plus, the backsplash can be turned into a design feature as well!
2. Preventing mobility and access
The essential areas of your kitchen are the sink, stove, and fridge as they receive the most traffic and use, and should be left unobstructed. The sink, in particular, can often be placed in a hard to reach spot as plumbing is considered over practicality.
If this may be an issue for you, paying a plumber to relocate the plumbing may be a small additional cost that will save you significant headaches down the track.
The areas between these three elements should be well-spaced. Not too small as to save overcrowding, but not too big, so you don't have a lot of travel time between workstations. The medium amount creates for the most comfortable and efficient workspace.

3. Poor ventilation
Beautiful looking kitchens seem less impressive if they smell. Leaving a range hood out of your design is a bad idea, not only for the longevity of your appliances but also the cleanliness of your kitchen.
Stale air, especially in a room that involves cooking, will really dampen the visual effect the room may have for your guests and yourself.
Invest in a good ventilation system and save your kitchen, and the rest of your house, from those bad smells.
4. No workspace
Counter space is another issue that people realise they have after the fact. One thing you need is a place for the many activities that take place in the kitchen, as well as somewhere to keep your appliances.
Horizontal surfaces should be added to your design wherever possible, often by the well-placed use of an island or breakfast bar.
5. An incorrect kitchen island
A great point to follow is the importance of choosing the right kitchen islands. While having as much counter space as you can is important, the wrong kitchen island can be a waste of space, especially if it's in the wrong spot.
Make sure you don't hinder traffic flow between the important workstations. Smaller kitchens should leave the island out of the design altogether.
6. Bad lighting
Modern design looks to use low or dimmed lighting to create a certain, stylish and elegant atmosphere; however, this rule shouldn't apply to the room that holds all of the sharp knives.
This is not to say you should light your kitchen up like a football stadium, but ensure the areas that you will be working in are well-lit.
You can use directional lighting to create a modern effect and avoid over-lighting while still giving plenty of illumination to the areas that need it.
Pendant lights above kitchen sinks or islands are a great way to have a good mix of design and practical light in the kitchen as well.

7. No space for recycling
More now than ever, recycling is important as we all do our small part to help the planet. This means that space for enough recycling bins, be it under the sink or elsewhere, is essential.
Being able to manage your trash in an efficient manner will make it more likely that you and your family will complete the task correctly.
It keeps things clean and easy, and above all, you are helping the earth!
8. Not having professional installation
A lot of the mistakes we are discussing here can be avoided by having professional designers create your kitchen design. DIY seems like a great way to save some money; however, an expert will be able to offer indispensable ideas and information while creating an efficient plan based on their previous experience that works to your budget.
9. Wasted Space
Storage or Kitchen Cabinets will be your saving grace in the kitchen; after all, there is a lot of things that a kitchen must store! Minimise wasted space with planning, and various cupboards provide extra storage space. Install a cabinet over the refrigerator, or shelves wherever you can.
Try to keep your kitchen from looking too cluttered by having the exposed items at a minimum. Pick a few feature things to have out and put the rest in a cupboard where possible.
10. Staying on trend
The latest kitchen design trends aren't always the best options for your particular space. Many people sacrifice practicality for a specific trend or style and end up regretting it later.
H&H Cabinets can help create a kitchen that is timeless, functional, to your budget and above all, enjoyable to be in. We have many years of experience with projects of all shapes, sizes, and budgets, and can help make sure that you get the kitchen design you desire, at the price that works to your budget.
H&H Cabinets are a professional cabinet maker company who specialise in creations that suit your personality, style, and budget, that work perfectly in your space, including but not limited to: kitchen cabinet, laundry cabinet, home office cabinet, Built-in cabinet, bathroom cabinet and living room cabinet, etc.
Contact us today with your specs and ideas, and we will work with you to create a kitchen that not only avoids the trappings above but impresses anyone who ventures into it!
Download a Copy
Care & Protection of Your New Cabinet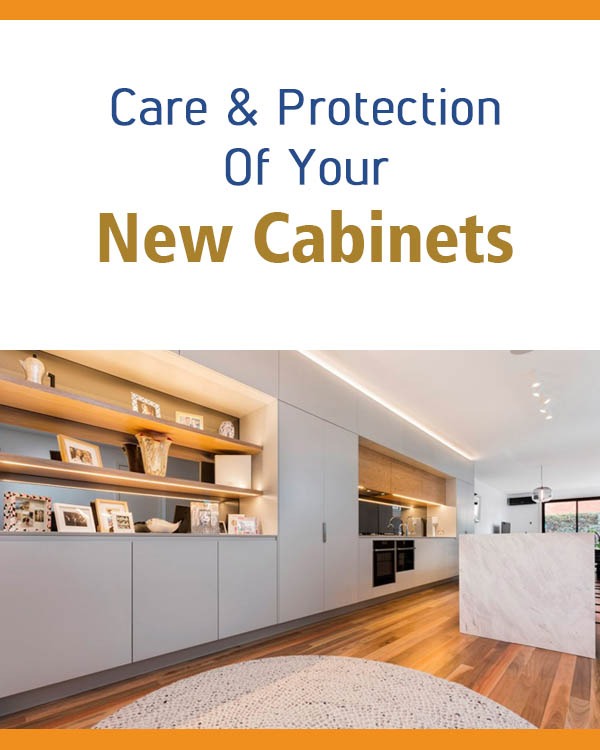 Other Services: