Award Winning Modern Kitchen Design in Melbourne
H&H Cabinets
People often forget that while a kitchen needs to be functional as it is a room for tasks, it also sits in a prominent position of your house, so it should look amazing. Below are award kitchen cabinet maker designs.
Modern kitchens, in particular, embrace this central role with a range of design and decor elements that can make them one of the stand-out areas of your home.
Modern kitchen cabinets are equal parts functional and aesthetically pleasing. Great modern kitchen design is efficient, welcoming and simple. The kitchen sits in the heart of your home, so careful consideration should be given to its interior design.
To help we have put together some award-winning kitchen design and kitchen cabinet design ideas to give you some inspiration.
All black everything
Going dark isn't the first thought for a kitchen, its full of whitegoods after all. The fact that it isn't a common thought is what makes a darker kitchen seem like a more original idea. Black is sleek, stylish and sexy, giving your kitchen a look of elegance.
Work in shades of black, navy, or dark brown for a seductive allure that is sophisticated and an excellent complement for smooth design. If you decide to go down this road and lay on the black, a few minor elements in chrome or wood should be used to break up the dark colours.
Textures like a matte table or granite bench will help keep things a little varied. Also, feel free to have your accessories on display like knives, wine glasses, cutting boards, teapots, etc.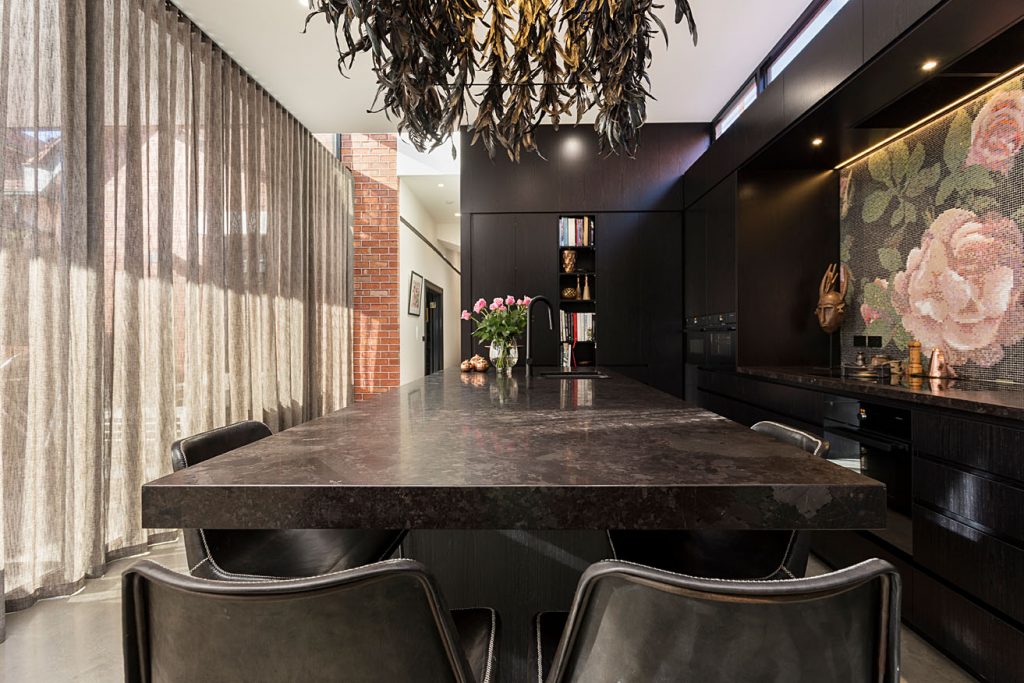 Making a statement
The splashback can be more than a functional element of your kitchen; in fact, it can be a feature. Obviously, there are many different styles, materials, colours, layouts and decorating ideas that can make up your kitchen, but a statement splashback can be applied in all cases to suit the rest of your theme.
Statement splashbacks can be a great way to brighten up your space with a unique design. They can be used to keep a specific rustic look to your kitchen or to add a subtle splash of colour.
They can also feature an image like the oversized florals pictured below to give an artistic element to your kitchen and draw in the eye.
Related Posts: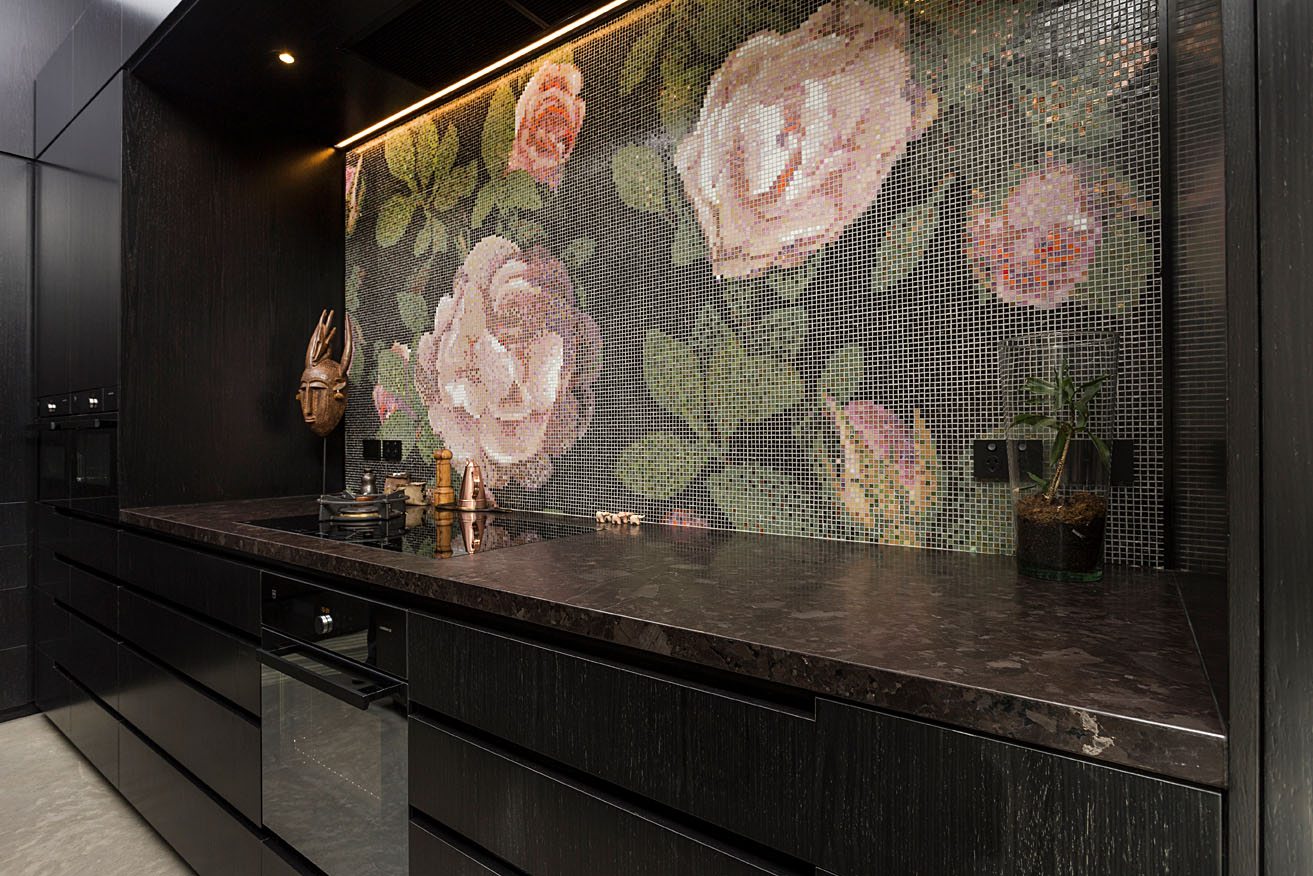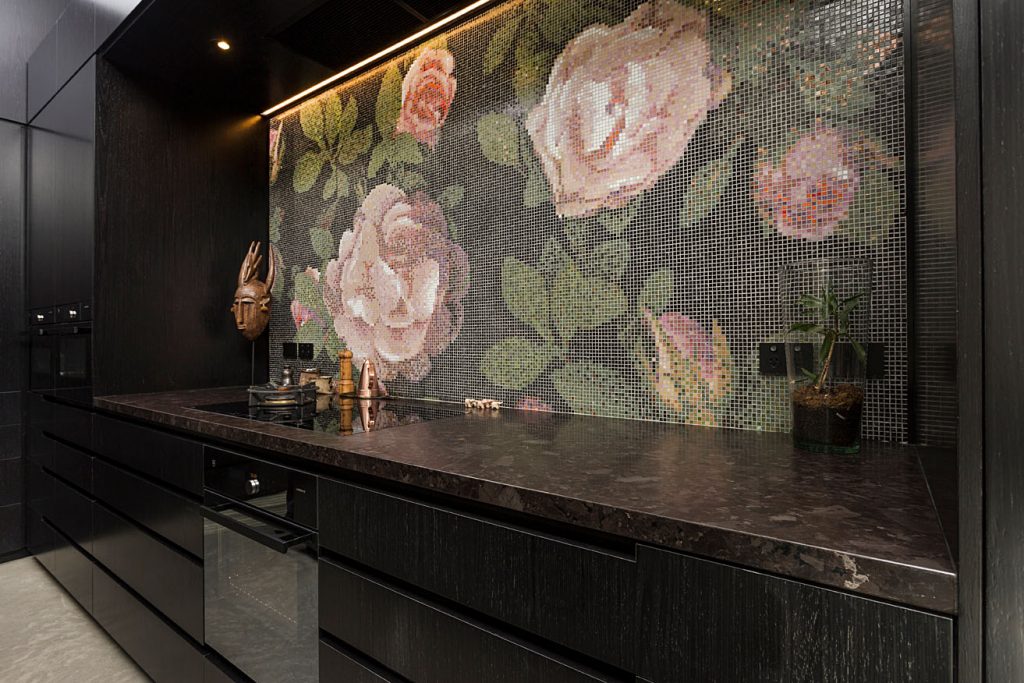 Contemporary colours in modern kitchen design
Most great design ideas include a number of broken rules. Let's break one here and delve into the contemporary design book for our modern kitchen ideas.
Contemporary kitchen design features clean lines, lots of storage, and functionally. They have a theme sense of personality using thoughtful colour and finishes.
Modern kitchen and modern cabinets colour palettes are often more of a neutral base of timbers, black and white, with blocks of colour or highlights as points of difference.
So we can steal ideas from the contemporary kitchen to include in our modern kitchen ideas such as patterned tiles that add colour and texture.
Alternatively, if too much colour isn't your thing, you can aim for a balance like the image pictured. Still quite bright but with subtle variance in coloured textures thanks to the marble of the splashback and table top.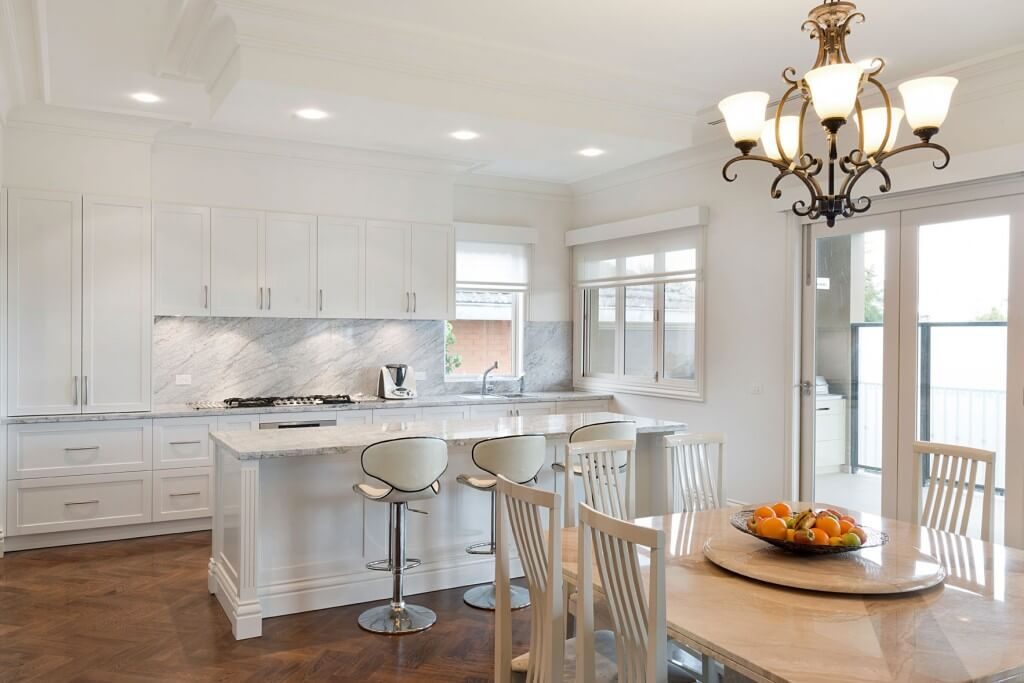 Advantages of the L-shaped kitchen
In Australia, we love our open-plan living, and this translates to many L-shaped kitchens. This is actually one of the most efficient kitchen layouts in modern kitchens.
It offers an easy and streamlined workspace with appliances and cabinets able to be installed along right-angled. You also have a nice open area in the centre creating a working triangle so you can move easily between your sink, oven, and refrigerator.
L-shaped kitchens mean the work stations are set out on two different walls making meal prep more organised as you don't need to walk far between your preparation zones.
They also allow for multiple entrances thanks to their two open ends meaning traffic can flow freely through the space. This is great for entertaining, especially if the in-laws want to get involved in the food prep!
If you are designing or working with an open-plan space, the L-Shaped kitchen is a perfect way to open up space to another room; typically a dining room, making mealtime relaxed and easy.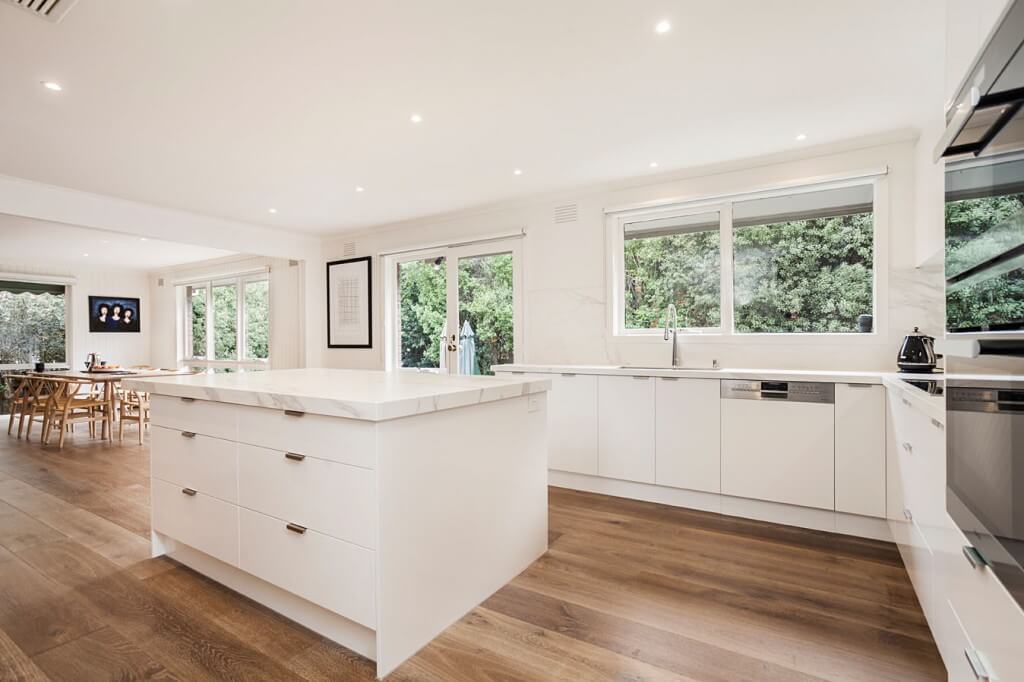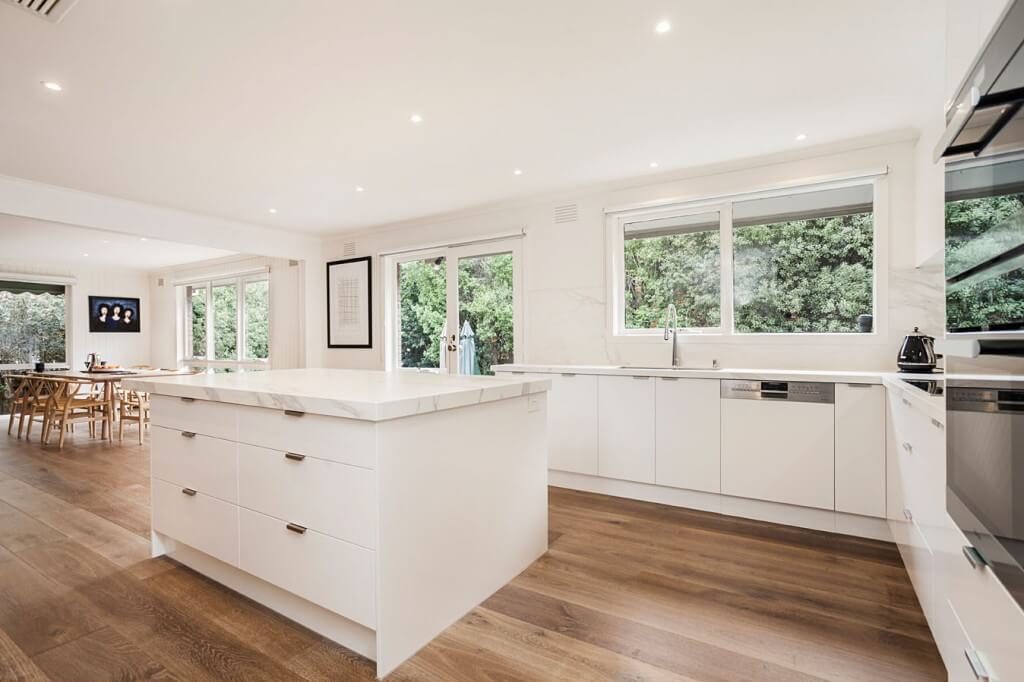 Open wine racks
If you love wine, why not put your collection on display? Kitchens don't have to be all clean lines and minimalism; they should have a feature as well. It gives character and shows off some of your personality.
The other advantage is storage. If you are a fan of your wine collection, you want it stored in an easy to display manner so that choosing which drop of red will accompany the night's meal is an easy task.
The best part is, they can be fitted to almost any space, as you can see in the image below where the area under the bench, which would typically lay dormant, has been converted into a handy wine storage display.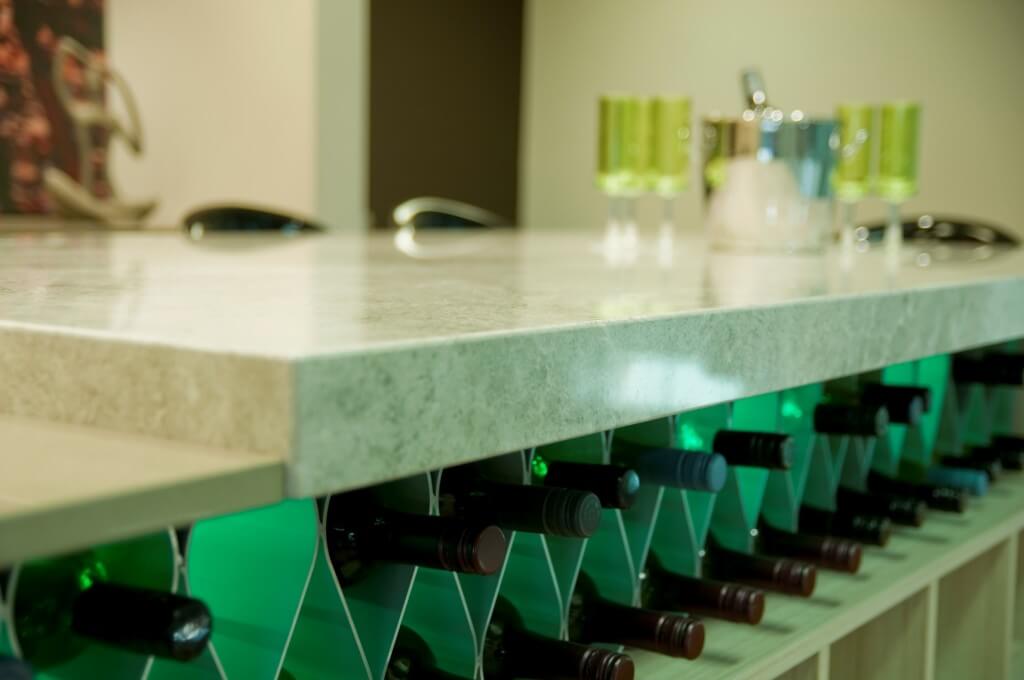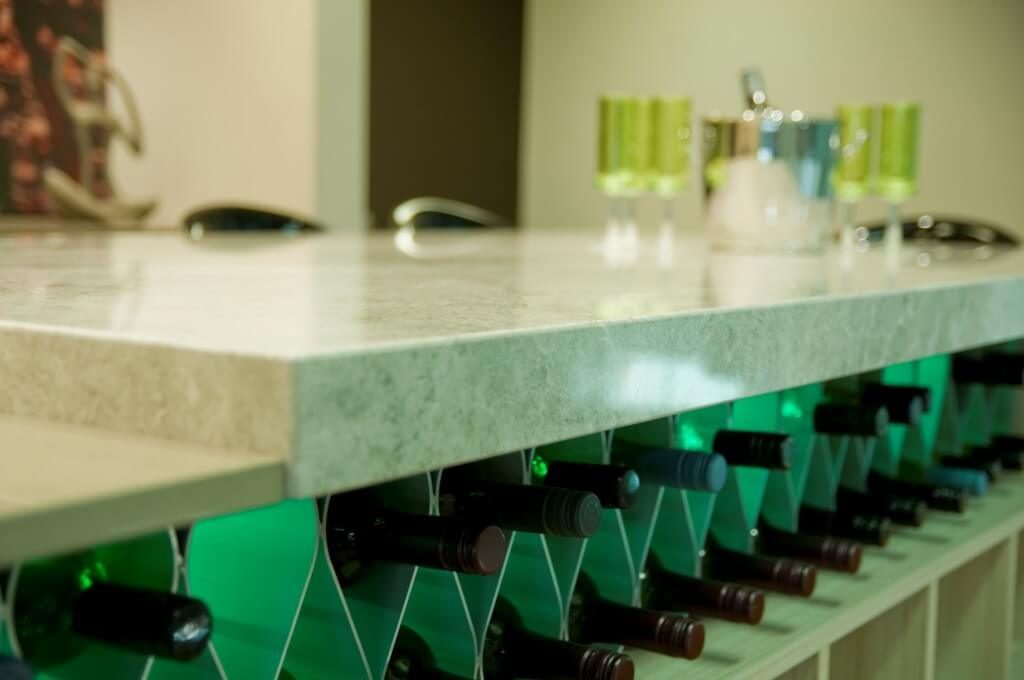 Statement lighting
The use and placement of lighting in a kitchen can help to create a striking design sensibility. You can incorporate filament bulbs and distinct finishes to create stylish illumination and features throughout your kitchen.
This can also be used to your advantage come food prep time. Lighting the particular work areas, as exemplified in the image below, gives you ample illumination to perform the task while minimising the light in other areas. This creates a more stylish, elegant feel about your kitchen as opposed to everything being overlit.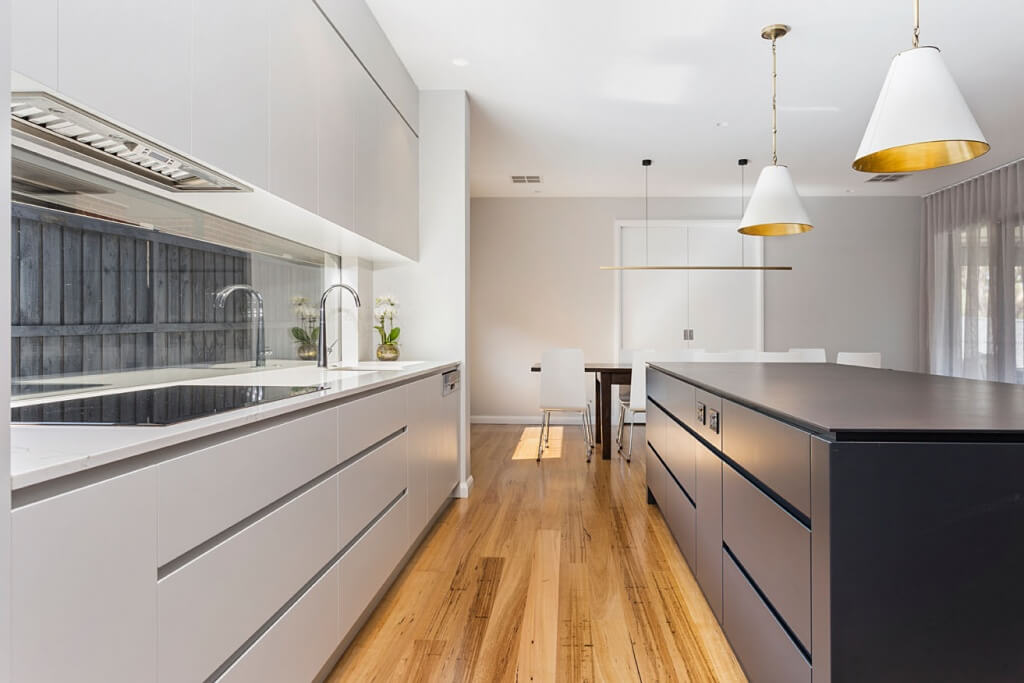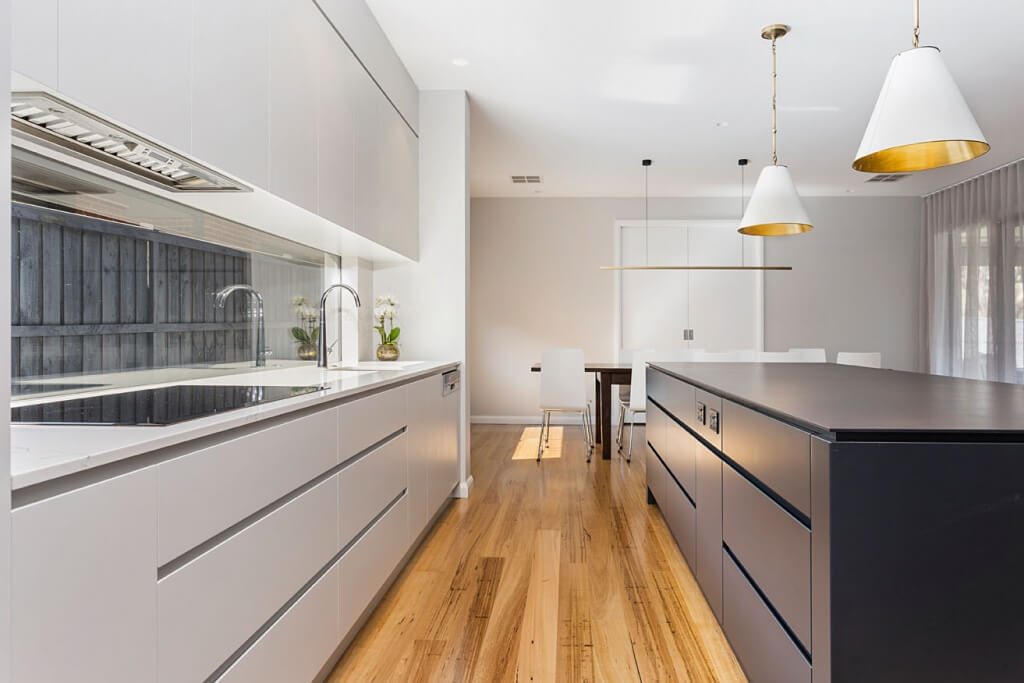 At H&H Cabinets we can provide you with an award-winning modern kitchen design
H&H Cabinets as one of the best cabinet makers in Melbourne aim to offer every client the best design, service, and quality cabinetry in Melbourne. With customised, end-to-end solutions we cater to each individual's needs.
We also keep abreast of the ideas and trends in modern kitchen design and along with the tips listed above, can create the perfect modern kitchen for you and your home.
H&H Cabinets are a professional cabinet maker company who specialise in creations that suit your personality, style, and budget, that work perfectly in your space, including but not limited to: kitchen cabinet, laundry cabinet, home office cabinet, Built-in cabinet, bathroom cabinet and living room cabinet, etc.
Through our consistent, excellent quality workmanship and high-level personal job satisfaction, we create aesthetic and functional design forming an environment you can enjoy for years to come. Contact us today about creating your dream kitchen and smile every time you see it from now on!
Download a Copy
Care & Protection of Your New Cabinet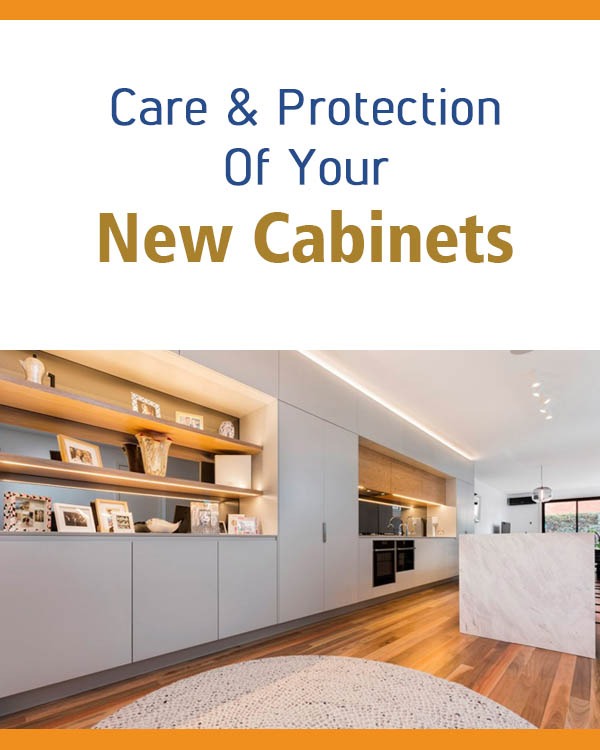 Other Services: